Fontanini nativity snow globes :  what they are and where to find them.
Looking for an unique and relatively inexpensive Christmas gift which can be passed down your family for generations?

You've just found it!


Fontanini's hand painted nativity snow globes offer a range of designs and sounds which will be a hit with any family member - or keep it for yourself if you want to inject some Italian traditions into your own family's Christmas.
Important note: Be very careful when buying snow globes: choose either "Fontanini" or "Fontanini by Roman" (Fontanini's main distributor for many years).  Many of those online - even those at Amazon - are not genuine Fontanini products but cheap imports from China.  All the snow globes featured here are genuine Fontanini.
What's so special about Fontanini's Christmas snow globes?


Fontanini is a small, family-run business based in a tiny village in Tuscany. They employ local craftspeople to produce some of the most detailed nativity ornaments you'll find anywhere, and they've become part of Italian Christmas traditions world-wide.
Each nativity scene is made of a tough resin and the figures are always hand-painted in colours which can't be reproduced on a mass scale.

This company is very careful about where they sell their goods. They're exclusive rather than a mass producer and, although their products are very much in demand they choose not to export to many countries.  
So you can buy in the knowledge that your gift is both authentic and relatively uncommon.


The globe below is a traditional, very simple, nativity scene.  Buyers comment on the quality of the workmanship, as is common for all true Fontanini products.
This globe stands 6" tall and plays "Away in a Manger".  A great choice for a family home.
Who will love them?


They're not a toy but a decoration, so they're not suitable for children.  
For young adults though, particularly those just starting off in their own home who may not have much disposable income, they make a wonderful gift to begin a 'family heirloom' Christmas ornament collection.  Add to it year on year - gift ideas solved for the foreseeable future!
The drummer boy snow globe is ideal for exactly this situation.  It's a new model by Fontanini and is a more modern take on the traditional Christmas nativity.
It's also likely to become a collector's item, so don't miss out if you collect nativities - treat yourself!
Want to buy the drummer boy snow globe from the UK?  Click here!
Are your family roots Italian?  Nativity snow globes will reflect your heritage.


Although snow globes aren't an Italian invention - they were first patented in Vienna in 1900 - nativities, or "Presepe", certainly are.  Every Italian home has at least one nativity scene, and usually more.  It's something of a passion in Italy, and Christmas markets always have hundreds of different nativity figures.
Fontanini developed their range of nativity snow globes in the early 1900s and they're now one of the most successful Italian companies. So buying one of these ornaments is buying into one of the oldest Italian Christmas traditions.
This globe is a little different to the rest.  Oblong rather than globular, the nativity here is shown under the traditional Christmas tree.
This product is distributed by Fontanini's long-time partner, Roman Inc.  It plays "O Little Town of Bethlehem", and is 7.5" tall.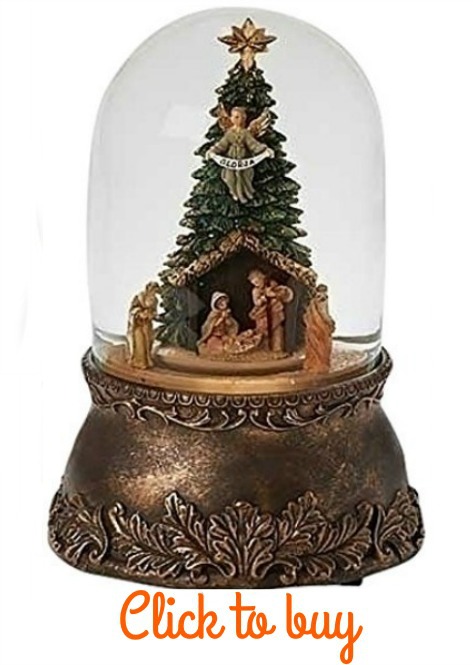 To buy this snow globe if you're in the UK, click here.
And finally - one of our favourites.

This one is a glitter, rather than snow, globe. The base is a re-creation of the stable scene complete with animals, and there are two little windows which give off a soft glow.
Animals in addition to the ox and donkey are very typical of Italian nativity scenes, but not common outside Italy - which makes this globe all the more desirable.  Beware though - this is the most often copied of the Fontanini Christmas globes.  Make sure you get the authentic model (which this link is) and not a Chinese import.
This globe is about 8" high, and plays "Joy to the World".

Please note : You will need two 'AA' batteries for the light in this globe which are not included.
If you like this globe and you want to buy more than one, clicking on this link will take you to a page where you can buy a set of two at a slightly reduced price.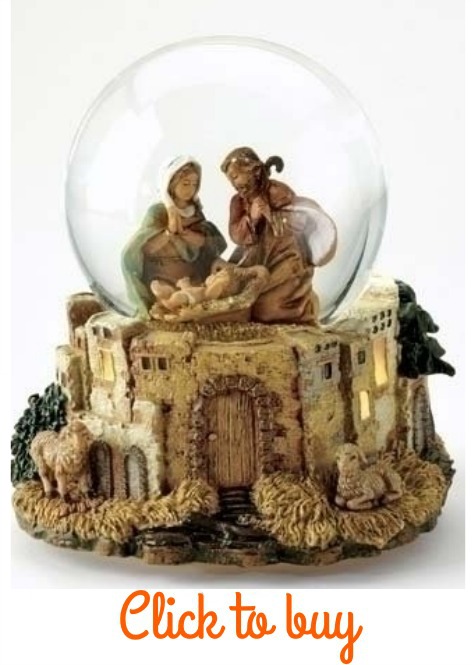 Want to buy this from the UK?  No problem - just click here.
---
Looking for more inexpensive Italian Christmas gifts?
And here's another selection of some traditional gifts big in Italian Christmas traditions. Click on the image to see more information.
---
More Christmas gifts from Amazon.
Some links on this page are affiliate links, which means that if you purchase a product through them, we receive a small commission. There is no extra cost to you. To learn more please see our affiliates disclosure document.
---

Click to go back to the home page.