Quick tiramisu : one of our favourite Italian dessert recipes.
This egg and alcohol free tiramisu is quick to make and is one of the most delicious of Italian dessert recipes.  It's specially great for kids, vegetarians and pregnant women as it contains no raw eggs.
There's no such thing as healthy Italian dessert recipes - this is as close as you'll get.  It substitutes chocolate for coffee, misses out the Amaretto liqueur, and can be made with skimmed milk - and the finished tira misu still tastes delicious.

Quick tiramisu : ingredients (to serve 4)
✮  4 dessert bowls or glasses, about 8 cm (3") in diameter and 6 cm (2.5") deep
✮  300ml (10 fluid oz) semi-skimmed milk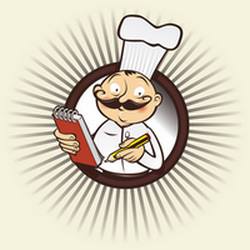 ✮  6 tablespoons drinking chocolate powder
✮  300ml (10 fluid oz) whipping cream
✮  250g (1 cup) marscapone cheese
✮  3 tablespoons caster or brown sugar
✮  1 teaspoon vanilla extract (not vanilla essence)
✮  20 Savoiardi biscuits (trifle fingers)
✮  4 chocolate Flake bars to decorate

And now - let's make this yummy chocolatey quick tiramisu...
✮  Put the milk into a pan to warm, and add the drinking chocolate. Make sure the heat is gentle or the milk will burn and your tira misú will taste bitter.
✮  Stir until the chocolate has dissolved and then remove from heat, pour into a bowl and put to one side.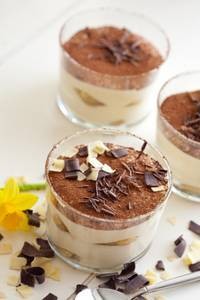 ✮  Put the whipping cream into a bowl and whisk until it forms stiff peaks.   A small hand blender is quickest for this. 
✮  With a spoon, stir the marscapone until it is softened.
✮  Add the sugar and vanilla extract to the cream and whisk together.
✮  Once they have combined, add the marscapone and whisk again.
✮  Taste, and if you want to add more sugar, do it now. 
✮  Dip eight of the sponge fingers into the chocolate mix for a couple of seconds on each side until they are covered in chocolate.
✮  Place two in the bottom of each glass. Make sure the sugared side faces upwards.
✮  If necessary, break the biscuits so that the bottom of the glass is as completely covered as possible.
✮  Divide the cream into two, and use one half to cover the biscuits in each glass.
✮  Now dip the remaining biscuits into the chocolate and place three in each dish on top of the cream mix. 
✮  Cover the biscuits with the rest of the cream mix.
✮  Cover the dishes with cling film and put into a fridge to chill for about two hours.
✮  When ready to serve, crumble one chocolate Flake bar (or grate some chocolate) over the tira misu.
✮  And then - enjoy your lovely quick chocolate tiramisu!

Buon Appetito!

---

---
For a really luxurious treat, try adding some chocolate biscotti to your Tiramisu - have a look at one of our best Italian cookie recipes.
Did you know that there's a savoury version of Tiramisu? And it's absolutely delicious!  Have a look at our savoury easy Tiramisu recipe  - we guarantee you will love it!
This may sound strange, but a true Italian Christmas pizza is sweet! Have a look at one of Le Marche's best Italian Christmas traditions here.
---
---

Click to go back to the home page.