Christmas Pizza, Le Marche style
This authentic Christmas pizza recipe is a favourite with our friends in Le Marche.

Cook it in advance and keep it with your other Italian cookies to offer unexpected guests!

What is Italian Christmas Pizza?
It depends which part of Italy you're in. This recipe is from our friends in Le Marche, where it's a regional speciality known as "Pizza di Natà".
It's eaten right through the Christmas period after the main meal with cream, or separately as a snack with wine or coffee - much as  other Italian Christmas cookies are eaten.
It's very easy to make; the time is taken in allowing it to rise. If you don't feel you have that time, look at our best bread machine reviews. Use the same ingredients but make sure you actually cook the pizza in a dish in your oven, not in the machine.
The Christmassy ingredients smell absolutely delicious as this pizza is cooking. Your home will smell of nutmeg, cinammon and dough - all the warmth of the Christmas season.

Italian Christmas pizza : ingredients
✱  500 grammes (1 lb, 4 cups) type 00 (or strong white bread) flour
✱  1 tablespoon sugar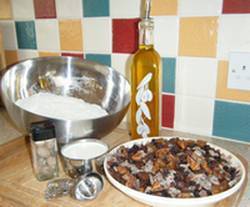 ✱  1 sachet dried yeast
✱  1 whole nutmeg, grated (or 2 teaspoons dried nutmeg)
✱  2 teaspoons dried cinammon
✱  Pinch salt
✱  1 cup milk
✱  0.5 cup of warm water mixed with extra virgin olive oil (equal quantities)
✱  The grated peel and juice of one orange and one lemon
✱  One bowl full of raisins, sultanas, diced dates, diced figs, walnuts, hazelnuts and any other dried fruits and nuts your family like
✱  One cake or lasagne tin measuring 28 cm (roughly 11") and at least 8 cm (3") deep
Christmas pizza : how to make it
✱  In a large bowl, mix together the flour, salt, yeast, sugar, nutmeg and cinnamon.
✱  Add the milk, water, oil and juices and mix together. Use a knife or spoon at first, and as the mixture comes together use your hands.
✱  Once it's mixed, turn it onto a lightly floured work surface and knead it until it forms a smooth ball. If it feels too wet, add a little more flour.
| | |
| --- | --- |
| | |
| The dough should go from this ... | ... to this. |
✱  Put it back into the bowl, cover with a dry cloth and leave in a warm place to rise for three hours. It should then be about double its initial size.
✱  Now put all the fruit and nuts into the bowl and, using your hands, mix them well into the dough. When almost everything is incorporated, turn it out onto the work surface again and knead it until all the fruit and nuts are mixed in.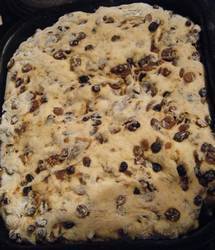 ✱  Grease the tin (we use a lasagne tin simply because it makes the pizza easier to cut than a round cake tin) and put the dough in it. Using your hands, push the dough into the tin so that it fills the base.
✱  Leave it again for at least an hour, until it rises to about three quarters of the way up the dish.
✱  Put into an oven pre-heated to 160º C (325º F, gas mark 3) for about 30  minutes. 
✱  Make sure you keep an eye on it, because the fruit's sugar content will cause it to burn and harden if it's left too long. It's ready when the top is nicely browned and a sharp knife stuck into the middle comes out clean.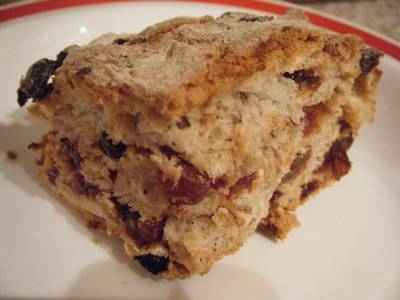 BUON APPETITO!
---
If you love pizzas, take a minute to look at our other deliciously authentic Italian pizza recipes - easy to make and nutritious too!
Looking for more authentic holiday dishes? Click on this link for a delicious fish recipe - an integral part of Italian Christmas traditions.
If you like the idea of having sweet nibbles available for unexpected guests, follow this link to another delicious Italian cookies recipe.
---
More easy Italian dessert recipes
---

Click to go back to the home page.