Italian seafood recipes : try our delicious Italian fish recipe - 'Gamberoni aglio e limone'.
Garlic lemon prawns is one of our favourite Italian seafood recipes - an ideal low fat, tasty meal in a country where food  can be high in calories and healthy recipes aren't easy to find.

Seafood on Venice market.
If you've never tasted fresh Italian fish, you haven't tasted fish.
The Italian coastline measures around seven thousand six hundred kilometres, so it's not surprising that fish features heavily as a staple food in Italy.
It comes in all shapes and sizes, it comes in fish markets, shops and in local travelling stalls.
And however it comes, it always comes fresh.

Italian seafood recipes : sourcing the ingredients.
Our local Italian fish stall.


This recipe can use any kind of seafood. Uncooked king prawns or langoustines are particularly good but can be expensive. If we're making this in the UK we often use a frozen seafood mixture available in our local supermarket.
But if we are buying our food in Italy, we have the luxury of fresh seafood on our doorstep. The taste is absolutely incomparable - it's just delicious.
So, wherever possible, buy whichever type of seafood you choose to use as fresh as you can.  It really does make a difference and it means that even healthy Italian recipes taste delicious!

Food in Italy can be complicated - how easy is this Italian fish recipe to make?
Actually, most healthy Italian recipes are quite simple to make - it tends to be English or American versions that add complications.
Lemon garlic prawns is one of the very simplest of Italian seafood recipes and is among our 'Cath can make this' dishes - if Cath can make it, anyone can!
It takes a very short time - about ten minutes to prepare the ingredients and less than ten minutes to cook.

Italian seafood recipes : ingredients.
These ingredients are enough to feed four people as a main meal.
20 uncooked king prawns or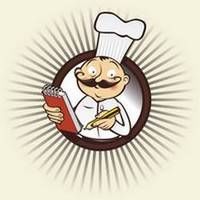 500 grammes (2.5 cups) mixed uncooked seafood
3 red chilli peppers - choose mild or hot according to your taste
3 garlic cloves
1 large, unwaxed lemon
2 tablespoons extra virgin olive oil
5 tablespoons parsley
Pinch salt

Italian fish recipe : preparation.
This dish cooks very quickly so it's important you have all the ingredients prepared before you start cooking.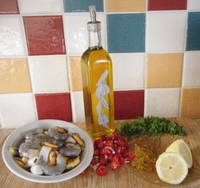 Simple ingredients.


If your prawns are fresh, take off the heads and tails and peel away the shell. There is no need to remove the black thread running along the back of the fish. Leave them whole - don't chop up.
Slice the peppers and chop the garlic finely.
Cut the lemon in half; use a fine grater to take off the zest (outside skin) of one half only; save the lemon itself for later.
Chop the parsley - it doesn't have to be finely chopped.

Italian seafood recipes : how to cook.
✮  Heat the frying pan on a medium light and when it's warm, drizzle in the olive oil. 
✮  Allow it to heat for a minute at most - do not let it get too hot or it will add a bitter taste.
✮  Add the garlic and chilli to the pan and cook until the mixture starts to sizzle.
✮  Now add the whole prawns, or your chosen seafood.
✮  Mix them all together either with a spoon or just by shaking your pan!
✮  When the prawns turn pink - it will only take a minute or so - add the parsley and lemon zest and once again mix in, allowing it to cook for another half minute or so.
✮  If you want to, add a little salt - but don't add pepper as your chillis give it the extra kick you need - adding more will overdo it.
✮  Allow this mix to cook for about two minutes - do not overcook!
✮  During that two minutes, take your half lemon and massage it! - roll between your hands to release the true lemon flavour.
✮  Now squeeze the juice of half a lemon into the pan.  Cook for another minute.
And now, you're ready to serve!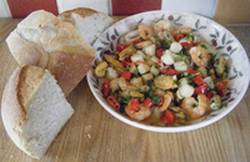 The finished dish.


✮  Food in Italy is usually served on one large platter - so, pile the prawns onto your serving plate and squeeze the juice of the remaining half lemon over the top.
✮  This Italian fish recipe goes well with a simple green salad and a basic homemade Italian salad dressing, as a topping for home made pasta or as a starter with some lovely crusty Italian bread.
We've also tried it with Caprese salad but find the cheese in the salad detracts from the gorgeous taste of seafood, and we've used it as a topping with tomatoes on italian pizza dough but it somehow seems a waste of good seafood to eat them as a pizza topping!

Buon Appetito!

Have a look at  more Italian pasta recipes
---

Click to go back to the home page.