Best Italian salad recipe pages -
pick your favourite here!

Each Italian salad recipe has been handed down from friends in Italy and tried and tested by us.


Combine them with one of our delicious dressings for a fresh and healthy meal

---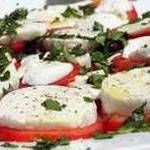 Originating in the south-west of Italy and reflecting the Italian flag colors, Caprese is probably the most well known Italian salad recipe.
Simple to make, it always looks spectacular as part of a full meal or in the middle of a picnic table.

---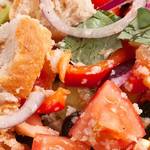 Italians are very good at using leftover bread, and this recipe is a favourite.
It's generally used in the heat of summer but is good at any time of year.
Quick to make, it's a great accompaniment to meat and fish dishes.

---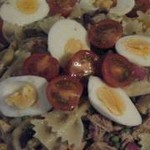 In Italy this dish is known as "Non posso piú" or "no more is possible"! It's the best salad recipe we know.
Use it to impress your friends as part of a meal, or as a main course with crusty bread.
It's such a healthy summer recipe - and delicious with it!

---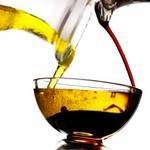 You'll probably already have the ingredients for this dressing in your store cupboard.
It's the most basic of salad dressings, made with the freshest possible ingredients. It takes a few minutes to create.
Transform your salads into something special. It's tasty, it's delicious - it's Italian!

---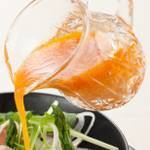 Simple but truly scrumptious.
Add this dressing to any salad to transform it into a gourmet dish.
It's quick, easy and you can even make a low-fat version!

---
Want to make your pasta salads really healthy? Have a look at how to make pasta - it's fun, easy and adds huge taste to your salads.

Making dressings is so much easier with the right equipment.  We review the Cuisinart - one of the best blender models on the market.
---
Have a look at some of our delicious pasta recipes
Italian salad recipe pages to our home page about Italian culture
---
If you found the content on this page useful or entertaining (or both!) please take a second to click the Facebook 'like' button below.
If you didn't, take a moment to tell us what you would find more helpful. We are always looking for ways of improving the site.

---