Cold Italian pasta salad -
the ultimate recipe

We describe how to make the most delicious cold Italian pasta salad ever!

One of our range of authentic, easy to make recipes from Italy to add to your picnic table or as part of your summer menu. It looks pretty spectacular on any table - yet it's so, so easy to make.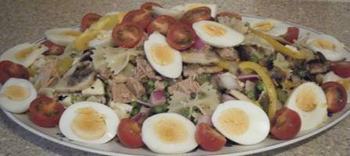 This salad, "non posso piú" ("can't do any more")...
... is a delicious, healthy, low fat salad which takes a little more preparation than other Italian salads but is well worth it.
Like a lot of Italian food, this dish gets better the longer you keep it as all the different flavours mix and mingle. But we defy you to keep it for long - put it out at a party and watch it disappear before your very eyes!<br>
It's mostly green so you could make your own green pasta, but in fact this looks better with an ordinary home made egg pasta as a contrast.
And for vegetarians, just leave out the tuna and egg.

Cold Italian pasta salad - ingredients
These amounts are plenty for a large platter which will feed four people as a main course.
✮  350 grams of any "short" pasta (fusilli [twisted], penne [tubular], farfalle [butterfly], conchigli [shells]), preferably home made
✮  200 grams (7 ounces / 1 cup) cherry tomatoes
✮  1 large yellow pepper
✮  2 celery hearts
✮  1 medium sized onion
✮  4 eggs
✮  150 grams (5 ounces / 0.5 cup) tuna in oil
✮  100 grams (3.5 ounces / 0.5 cups) peas
✮  100 grams (3.5 ounces / 0.5 cups) mushrooms
✮  50 grams (2 ounces / 0.25 cup) Emmental cheese
✮  50 grams (2 ounces / 0.25 cup) mozarella cheese
✮  80 grams (3 ounces / 0.5 cup) bottled gherkins in vinegar
✮  50 grams (2 ounces / 0.25 cup) bottled capers
✮  Extra-virgin olive oil
For the dressing :
✮  5 tablespoons extra-virgin olive oil
✮  3 tablespoons lemon juice
✮  1 tablespoon white wine vinegar
✮  1 tablespoon mustard powder
✮  Marjoram and mint leaves - roughly a tablespoon of each
✮  Salt and pepper to taste

Cold Italian pasta salad : how to make it
✮  Hard boil the eggs; leave to cool, then peel.
✮  Cook the pasta according to the instructions until it is 'al dente'; drain and put into a large bowl.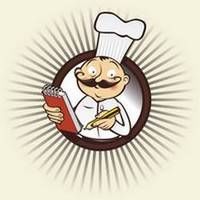 ✮  Add one tablespoon of extra virgin olive oil, mix well and leave to cool.
✮  Cut the tomatoes and pepper in half.  Remove the seeds and pith from the pepper and slice into strips.
✮  Peel the onion and chop it and the celery finely.
✮  Drain and slice the gherkins; slice the mushrooms; drain the capers.
✮  Dice the cheese into small cubes; break up the tuna with a fork.
✮  When the pasta is almost cold, add all the ingredients except for the eggs and half the tomatoes. Stir it all together gently.
Dressing :
✮  Mix together the oil, lemon juice,  vinegar and  mustard.
✮  Finely chop the marjoram and mint and, using a hand blender mix into the dressing.
✮  Carefully combine the dressing with the pasta mixture. Transfer to a large oval or round serving plate.
✮  Slice the hard-boiled eggs into discs and decorate the centre and edges of the salad plate by alternating slices of egg and tomato halves.
✮  Cover with clingfilm (Saran wrap) and place in the refrigerator for about 40 minutes before serving.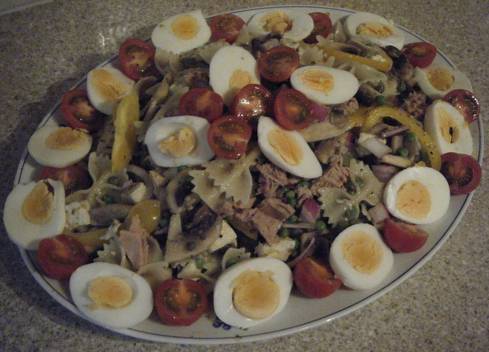 Buon Apetito!

---
Like this cold Italian pasta salad recipe? It tastes wonderful with this basic Italian dressing for pasta salad - try it for a change!
Follow this delicious salad with the most popular of Italian desserts - quick tiramisu.
---
Try some warm Italian pasta recipes here!
---

Click to go back to the home page.