Laura's apartment in Rome: the special experience of staying as a friend, not a tourist.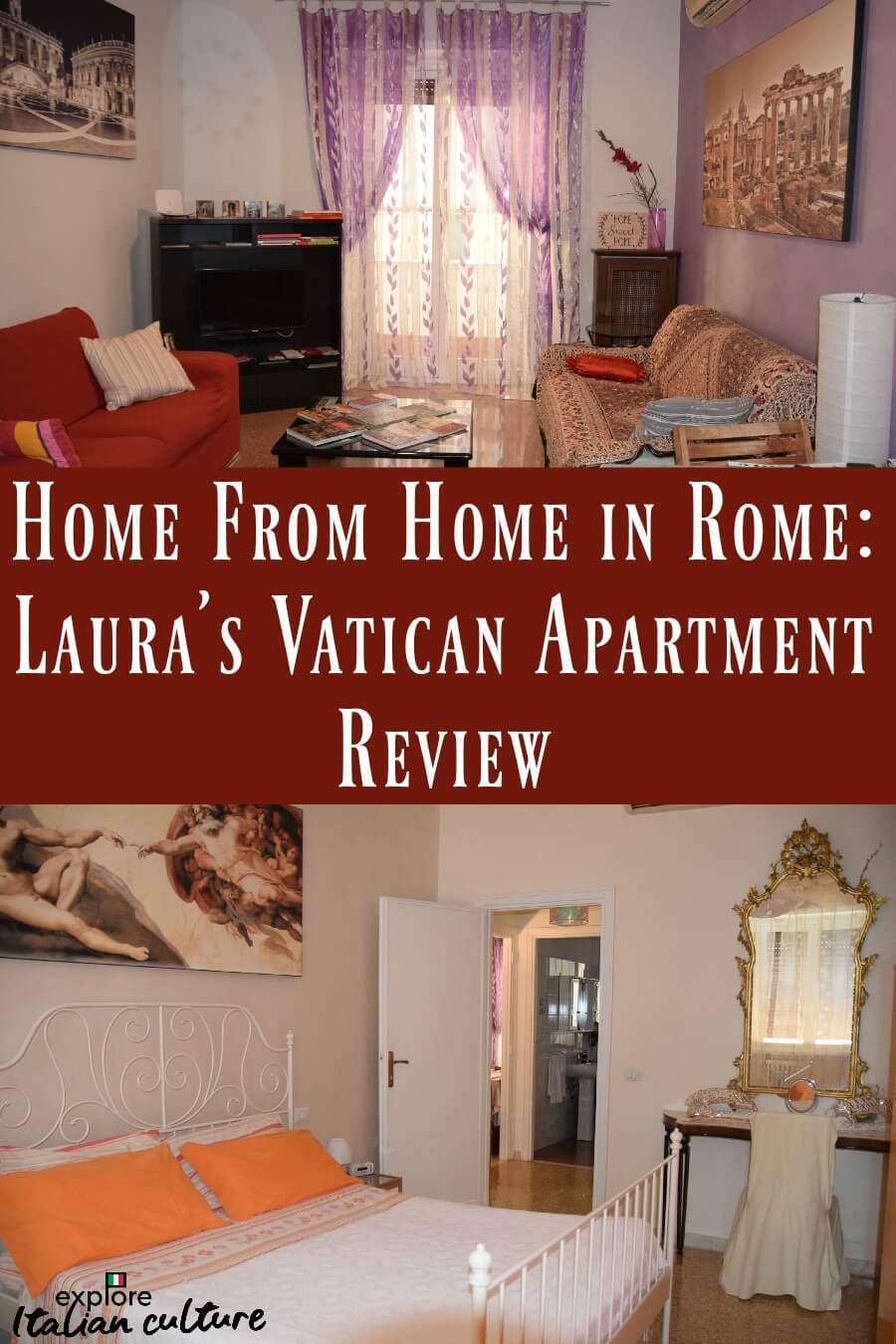 If you want to leave the tourists behind and soak up Italian culture, you've come to the right place.
Links on this page are affiliate links, which means if you click through and buy, we earn a small commission at no extra cost to you. We don't get paid in any other way for writing these reviews - we recommend hotels and apartments just because we genuinely know and love them. For more information about affiliate links, see our policy.
Cath stumbled upon Laura's Vatican apartment back in 2018 and it instantly became a firm favourite of all the places we know to stay in Rome, Italy.
Why?
Renting an apartment in Rome offers a very special experience. You're staying in a local neighbourhood as a member of a community. You shop for fresh foods in local markets, you're greeted with a cheery "Buongiorno" when you buy your morning pastries at the local baker's.
You're not a tourist. You're a friend.
And if you want to stay near the Vatican but within easy, quick reach of the rest of the city, Laura's apartment could be the answer to your prayers. Here's a quick recap of just a few of its many benefits:
It's in the heart of a pleasant, lively district of Rome, yet still within walking distance of St Peter's and the Vatican, and five minutes' walk from the Metro to reach other parts of the city quickly.
It is one of the most well-equipped apartments we have

ever

stayed in.
There are authentic Italian, non-touristy places to eat, drink and relax.
Being in this apartment really does feel like you're a part of the city, not an outsider.
And because the owners, Nadia and Aldo, are the most welcoming, kind, lovely people who make you feel part of the family.
Ready to book Laura's Vatican apartment in Rome, Italy? Great!
This apartment is so popular it tends to book up months in advance. Our advice is to book as soon as your trip is arranged. Enter your dates in this search box to check availability and price - or read on for more detail.
Clicking on any of the apartment's images on this page will also take you to the booking page.
Where is Laura's apartment?
It's in the Vaticano Prati district - a quiet, safe neighbourhood about an easy ten minute stroll from the Vatican Museums, fifteen from St Peter's Square. To get to the rest of Rome - if you don't want to walk, or need to go somewhere quickly - Cipro Metro station is literally four or five minutes' walk away.
Worried about using the Metro? Don't be! See Cath's practical guide to the Metro. 
Laura's apartment in Rome: rooms.
First things first: this apartment is kept spotlessly clean. The owners, Nadia and Aldo, clearly take a huge pride in keeping it in tip-top condition.
All the rooms have very effective air conditioning, which is a must in the heat of Rome's summer. They also have marble tiled floors which are amazingly soothing for tired feet!
The apartment has free wifi in all the rooms. I needed to work online while there and I was impressed with the speed of the internet access - and I'm not easily pleased!
Living room.
A spacious area with two roomy, comfortable sofas, a large, flat screen television and a small dining table. It's such a pleasant change from staying in one of Rome's hotels, which tend to have small rooms without much space to relax comfortably.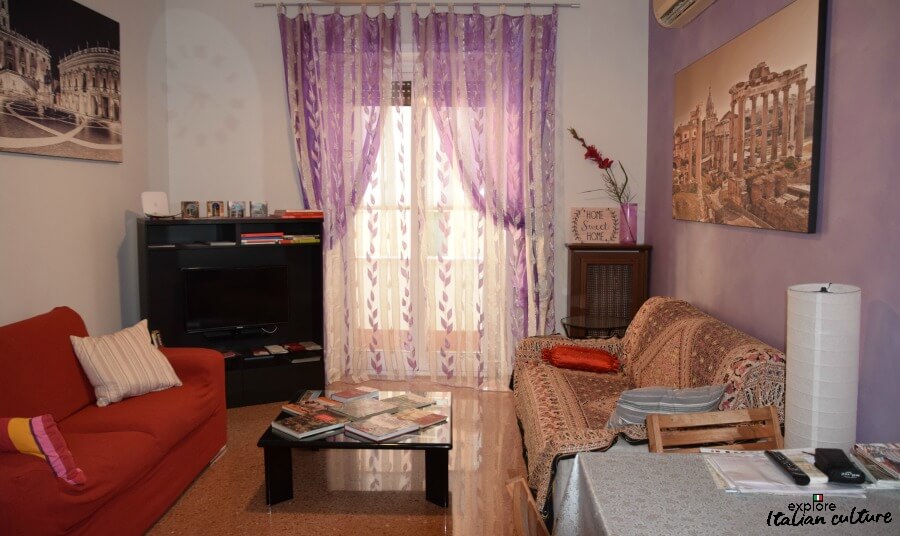 The comfortable, relaxing living room. You too could be staying here! Click to book now.
It's decorated as a cozy home with pictures, books, including loads of guide books, and little knick-knacks. 
Truly delightful.
Coming back from a hard day's sightseeing and being able to relax in such pleasant surroundings is a real luxury. I admit to falling asleep after my city excursions on the very comfortable sofa.
Bedroom.
The bright orange wardrobes take a bit of getting used to! But actually I grew to love them - they add to the brightness of this room, which is very quiet, even though it faces onto the street. 
A queen-sized bed and enormous amounts of wardrobe space characterise this space. The bed and pillows are ultra-comfortable - you won't want to get up in the mornings! All bedding is included in the cost and was spotlessly clean.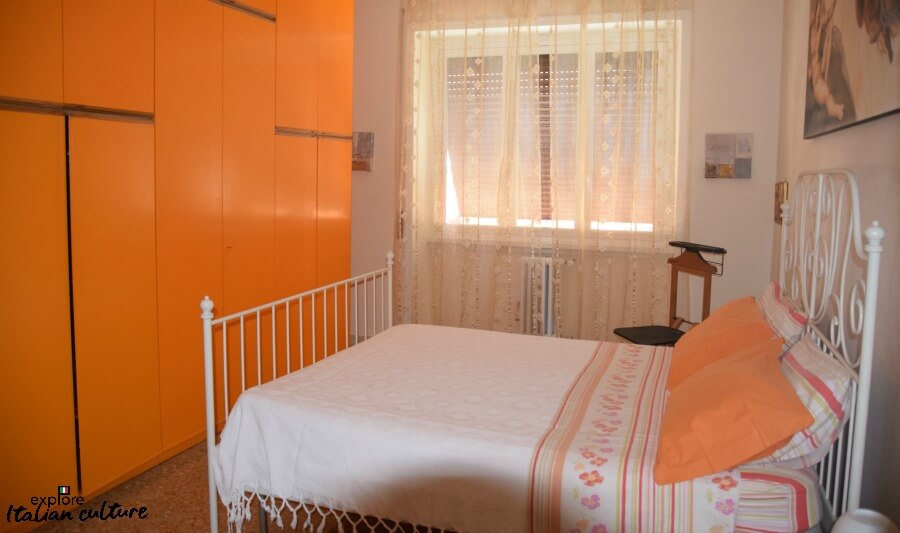 The window is openable and the blind, which does a good job of sheltering the bedroom from the sun, raises so you can do as the Romans do - take a look at what's going on in the neighbourhood.
I loved seeing the ladies in the apartments opposite settle down for a coffee and a chat in the afternoons.
Kitchen.
Wow, the kitchen! It's not the biggest, but more than adequate. It has all the equipment you'd expect to find in someone's home, including lots of crockery and cutlery, an oven and hob, a kettle, fridge, microwave and proper coffee maker complete with coffee pods.
Eating in means saving money in Rome - and that can only be a good thing. Shop for fresh produce at local markets for exceptional value.
But it's this - the photo on the right - that I couldn't believe...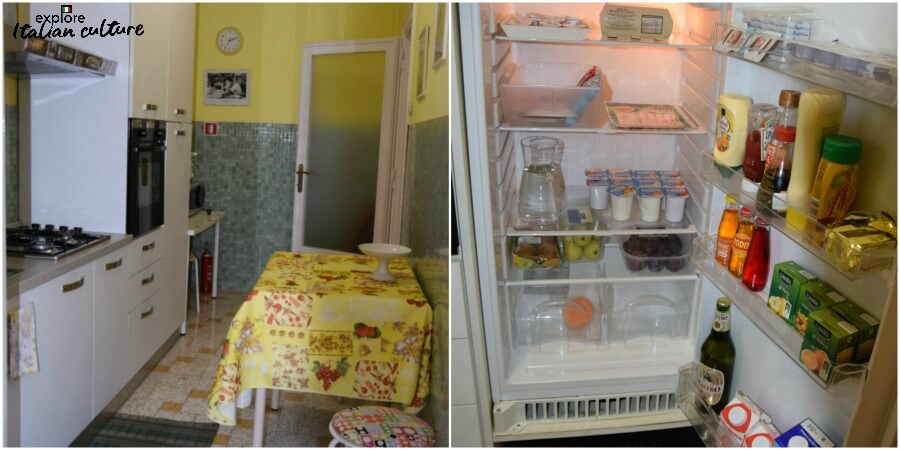 Look at the contents of that fridge! Click here to book.
The fridge was absolutely crammed with food and drink: water, juice, beer, Aperol, milk, yoghurts (so many yoghurts!), cooked meats, cheese, fruits - I could have lived on its contents for the whole time I was there!
Such generosity, I discovered, is very typical of Nadia and Aldo.
Bathroom.
The bathroom is again well equipped, a reasonable size and perfectly adequate. There is a small bath with a shower over, and the water was piping hot with good pressure.
As in all Italian homes there's a bidet as well as a wash basin and toilet, and the washing machine (which is free for your use) lives here too.
You'll find toiletries, and all towels are provided.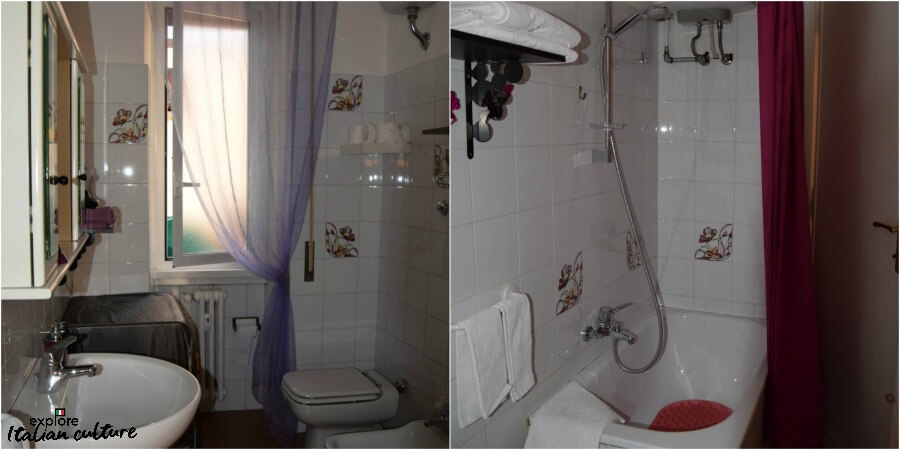 Laura's apartment: public areas.
The apartment building is very secure with an intercom system for entry and video surveillance cameras.
The apartment itself is accessed by walking through the bright, spacious lobby area which houses the lift (elevator), or stairs if you want to work at getting rid of all those Italian cooking calories!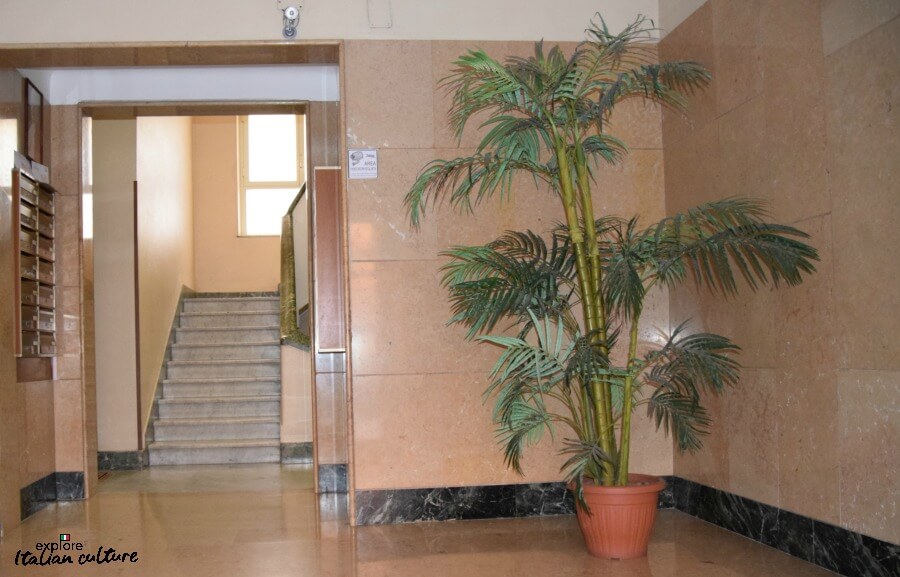 Nadia and Aldo, the Italian owners.
You may have realised by now that I'm Nadia and Aldo's number one fan! It's a lovely apartment in a nice area, and it's their generosity and kindness which makes it such a special place to stay.
They have a particular fondness for and investment in this apartment: Laura, after whom it's named, was Aldo's mamma and Nadia's nonna (grandmother). They take a huge pride in making sure everyone who stays there knows the hospitality their family was, and is, known for.
Their attention to detail is second to none. They provide masses of information about the immediate area and the city itself, and tips for sightseeing if you let them know what you want to see. They also provide intricately detailed bus and metro routes, and Aldo walked me to the Metro on my final day, insisting on pulling my case along.
What a gentleman!
They even gave me a pair of binoculars better to see the Sistine Chapel ceiling!
Having guests stay is not so much a business for Nadia and Aldo - it's an affair of the heart. You'll feel like they're your long lost Italian family. 
Book here as soon as you have your dates - this apartment is usually fully booked. 
Near the apartment.
There are a number of pleasant, inexpensive places to eat within a couple of minutes' walk. Sadly, I avoided Trattoria da Sora Gina, right opposite, because although it's very convenient there are a number of reviews on Trip Advisor which talk of credit cards being doubly charged. So go there by all means - the food is simple, local Roman cooking - but my advice is to pay in cash.
Aldo recommended the 'Pizzarium Bonci', a couple of minutes' walk away on the Via della Meloria, right by the Cipro Metro station. They have an enormous selection of pizza toppings, all cooked fresh.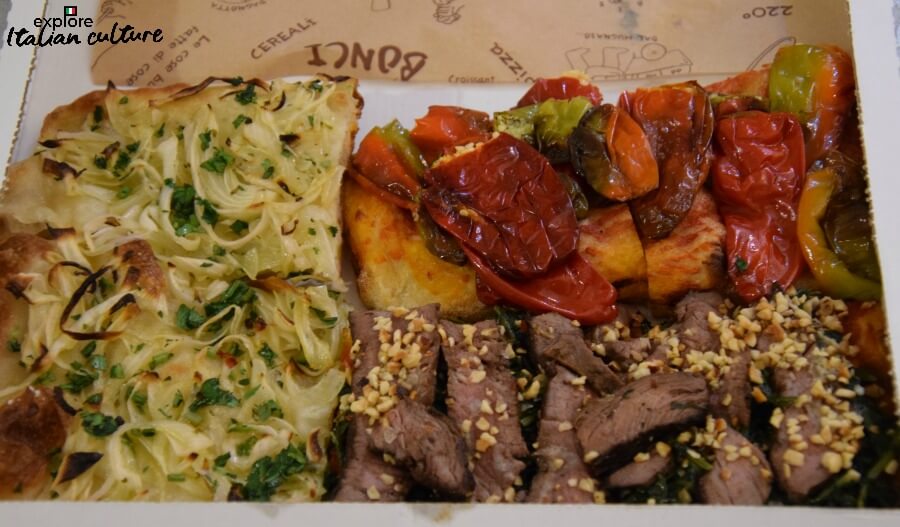 My selection of pizza from Pizzarium Bonci. I overdid it - it's very filling!
People come from all over Rome to this place and it's frequented mostly by Italians, which tells you how good it is. It's certainly an experience and if you want to eat in without cooking, it's an deal solution to pick some up pizza on the walk home from the Metro.
Just round the corner from the apartment, on the leafy Via Angelo Emo, you'll find a a Conad supermarket, a number of faster-food outlets, a pharmacy and a delightful florist, 'Mercatino delle Rose', if you fancy adding some beautiful scents to the apartment.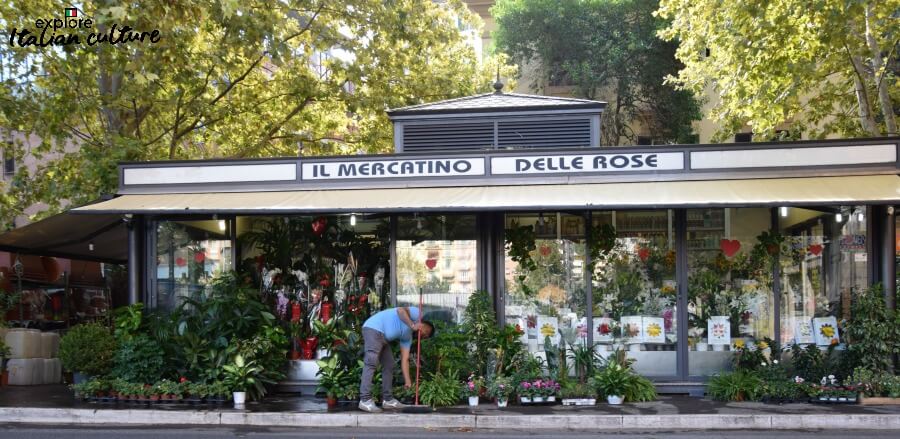 Wandering a little further down the Via Angelo Emo you'll come across a lovely church: Chiesa di Santa Maria delle Grazie. It's not old - consecrated in 1941 - but take a look inside - it's worth it. It's a peaceful place - and it's cool on a hot summer's day!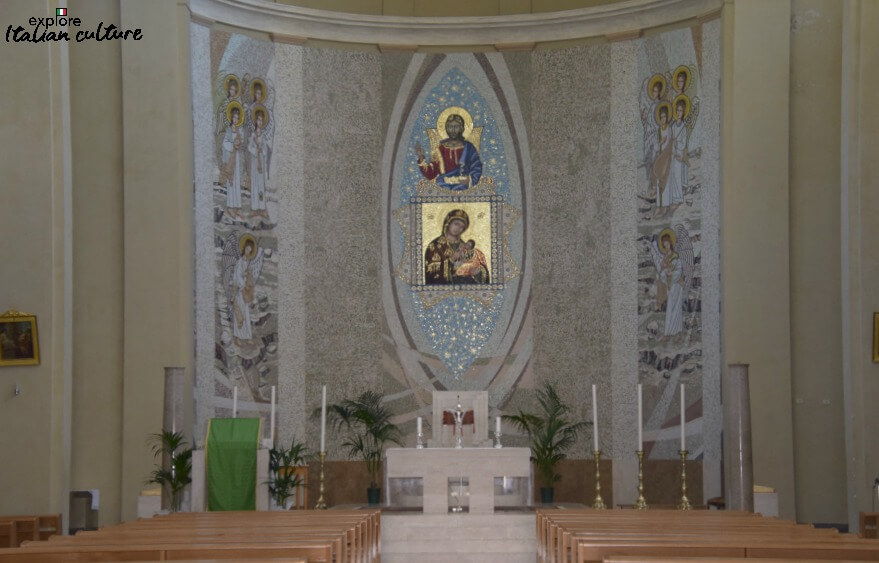 The main altar of the church of Santa Maria delle Grazie.
The Trionfale market.
If you're planning to eat in the apartment, the Trionfale market deserves a special mention. It's about ten  minutes' walk from the apartment, and one of the most popular markets in Rome for local people.
Which means that the produce is local, fresh and well priced. It's also a great way to experience the real culture of Italy - food is a serious business here! 
Don't miss it!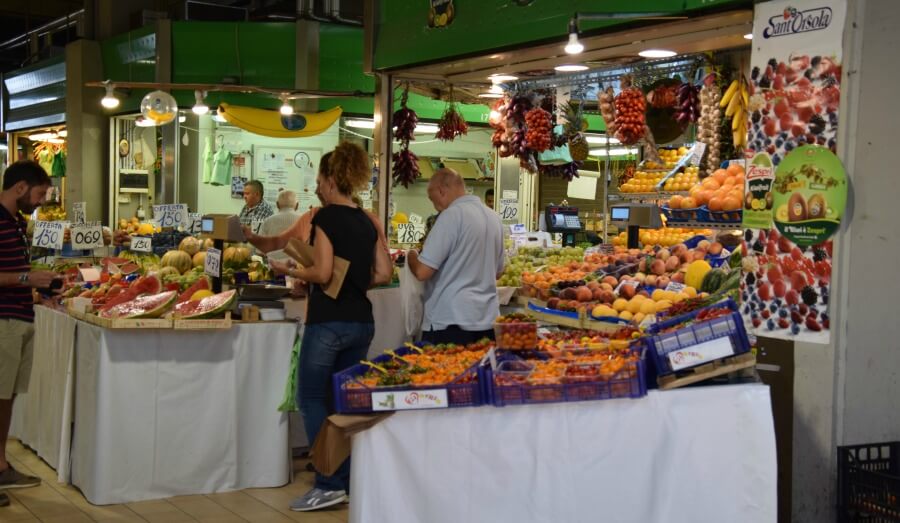 A vegetable stall at the indoor Trionfale market - fresh, local produce at good prices.
Laura's apartment in Rome, Italy: do stay here if...
You want to experience real Italian culture as a resident, not a tourist.
You'd like to eat in reasonably priced places with no tourist menu!
You would like to experience Roman hospitality at its best.
You'd love to have a place you can call your own to relax in at the end of the day.
Don't stay here if...
You want to be right in the centre of Rome.
You prefer to be waited on in luxury accommodation. (But then you miss out on living life in the centre of a real Italian community!).
Cath's view:
"Staying in this apartment for a few days was absolutely one of the very best accommodation experiences I've had in Rome in many years of visiting the city.
Living in a supremely clean, well-stocked apartment in quiet local neighbourhood, whilst having easy access to everywhere I wanted to visit, was ideal.
Shopping and eating locally made my stay so much more relaxed - and less expensive - than staying in a hotel in central Rome".
How to book Laura's apartment in Rome.
Just enter your proposed dates in this search box which is already pre-filled with the apartment's name. f you don't have dates yet, just check "I don't have specific dates yet".
You'll be taken to our partner's website where, if you'd like to, you'll be able to read more reviews and book.
---
Want more information about staying in Rome? These articles will help.
---

Click to go back to the home page.