Hotel Gea di Vulcano, Rome: Our No Holds Barred Review.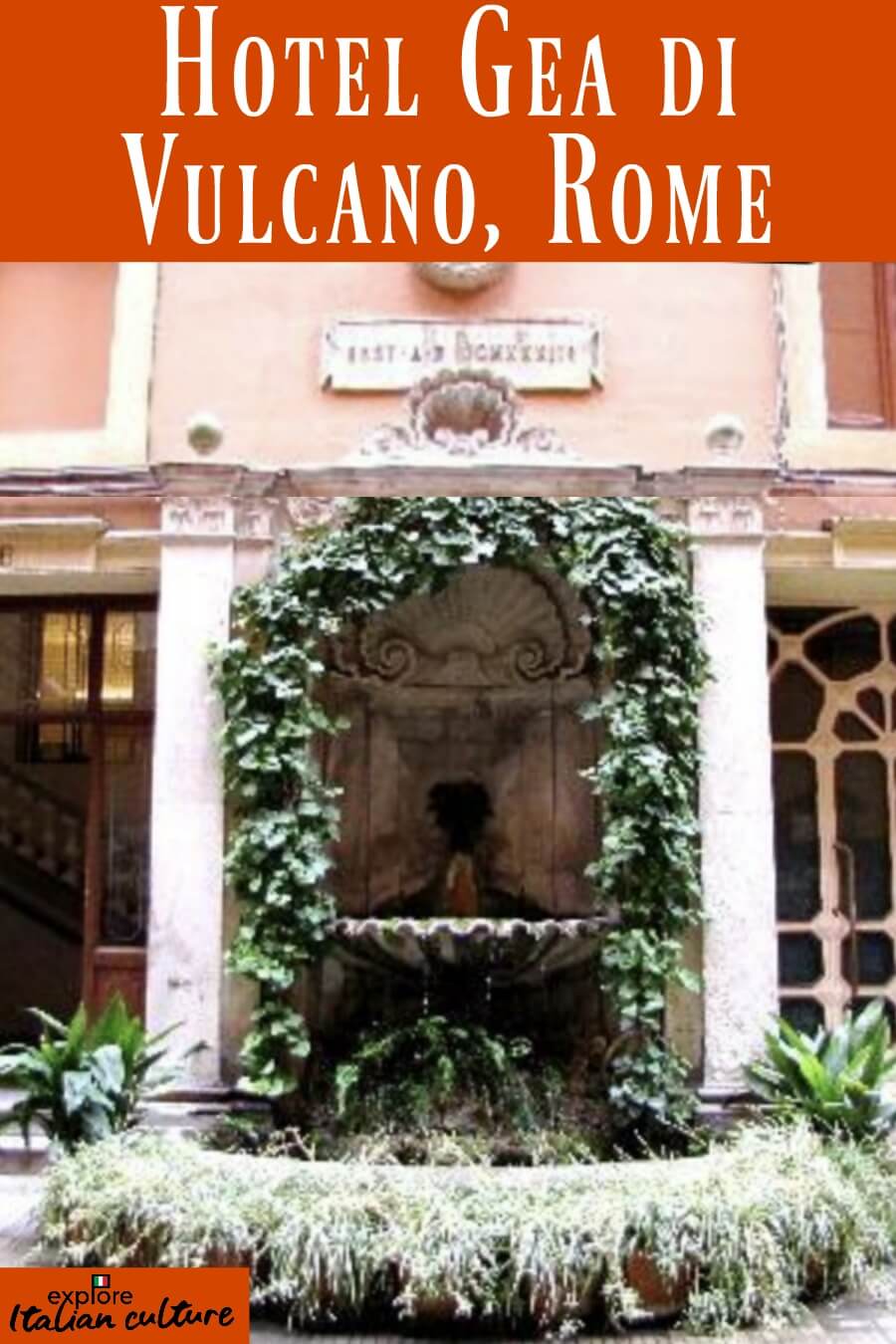 If you're searching for a well priced, family hotel within walking distance of all Rome's main sights, you may have just found it. 
Hotel Gea is one of the first hotels we ever stayed in near the centre of Rome. We were there in late winter with some friends from America and their teenage children, so we wanted a relatively inexpensive, warm, family-friendly hotel with adjoining rooms.
And that's exactly what we got.
Hotel Gea: where is it?
Hotel Gea is a three star hotel situated at number 243 on the Via Nazionale, Rome's oldest and most imposing boulevard which stretches from Repubblica right down to the Piazza Venezia.
So it's a direct route into Rome and the Nazionale is an interesting walk, with shops and boutiques on both sides - a great place to go shopping for clothes and leather goods at more reasonable prices than in the city centre.
Most less expensive hotels in Rome are to be found a long way outside the city. But staying in an outer-city hotel can prove a false economy as you'll have to pay for transport into the city which can be expensive and adds time onto already tiring days.
This hotel is just ten minutes' walk from Termini station and less than five minutes from the beautiful Piazza della Repubblica.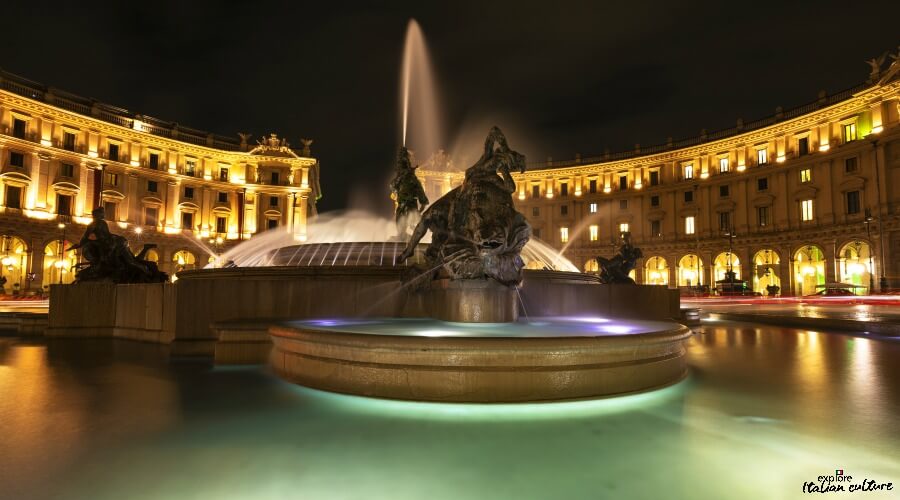 The beautiful Piazza della Repubblica is just five minutes' walk from Hotel Gea di Vulcano.
It's about 20 minutes' walk from the Spanish Steps, 25 from the Colosseum, and about 50 minutes from St Peter's Square.

If that sounds too far to walk, there's a Metro station and the "Hop On, Hop Off" tourist buses 5 minutes away at Repubblica. Public buses into the city also stop at regular intervals on the Via Nazionale. 
So the Hotel Gea di Vulcano is, in our view, exceptional value, being so close to the main sights of the city yet outside the chaos of Rome's centre.
For specific instructions on how to find the hotel, see this section.
Ready to book at the Hotel Gea di Vulcano? No problem!
Use the booking forms (like the one below) or click on any of the hotel's photos.
Links to Booking.com are affiliate links, which means that if you click through and buy, we are paid a small commission for sending you there. There is no extra cost to you. For more information see our disclosure policy.
Hotel Gea di Vulcano: rooms.
Hotel Gea's bedrooms.
This is Rome. Don't expect your room to be large or ultra-luxurious or to have wonderful views - you'll be disappointed.
What you will find, though, is sparkling clean, comfortable, adequately furnished accommodation with a private,  en-suite shower room.
Because many of the rooms are at the back of the hotel and all are well soundproofed, the hotel is also surprisingly quiet, particularly considering how busy the Via Nazionale can be. None of our group heard a thing and we enjoyed perfect sleep after several hard days' sightseeing.
Rooms have tea and coffee making equipment, which is not common in Italian hotels. A TV (Italian channels only) and free internet access. This is one of the rooms we stayed in - note that beautiful arched ceiling.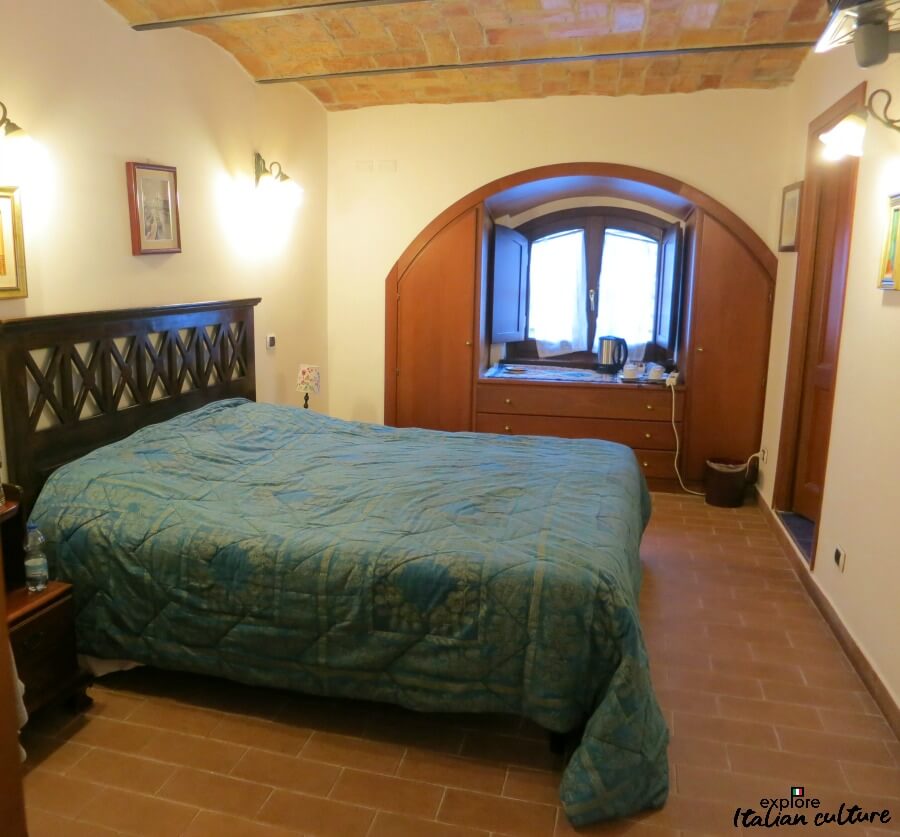 A double room at the Hotel Gea. Click to book at the Hotel Gea on Booking.com.
Importantly, and unlike many hotels in Rome, the Hotel Gea di Vulcano has an excellent air conditioning system which in the heat of Rome's summer is very much a necessity.
In the chillier months of autumn and winter the same unit acts as a central heating system to keep you warm. When we stayed, air conditioning was included in the price (you can see the unit in the picture below, above the door) but it's worth checking - some Rome hotels have started charging extra.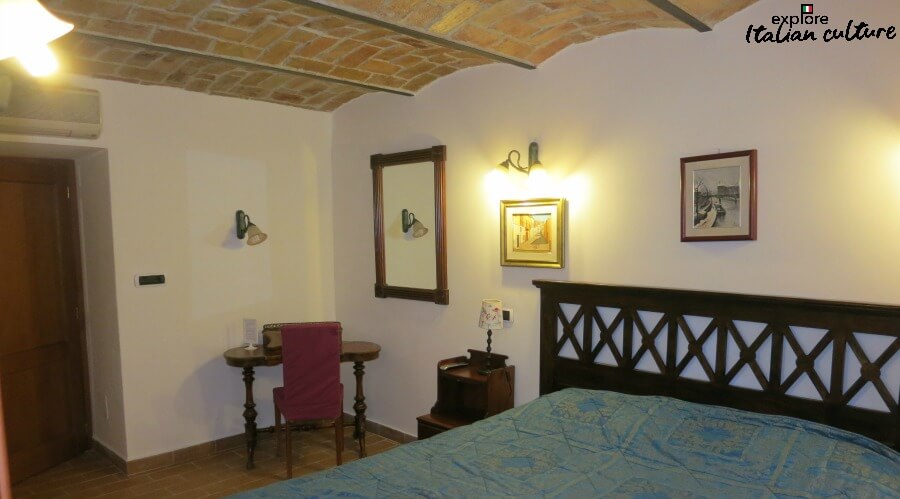 The air conditioning unit can be seen above the door. Click to book at the Hotel Gea on Booking.com.
We had several rooms. This one adjoined the main room and was ideal for teenagers to have their own space. The internet access in all the rooms (see the booster unit on the wall) was good enough for the youngsters, which says it all!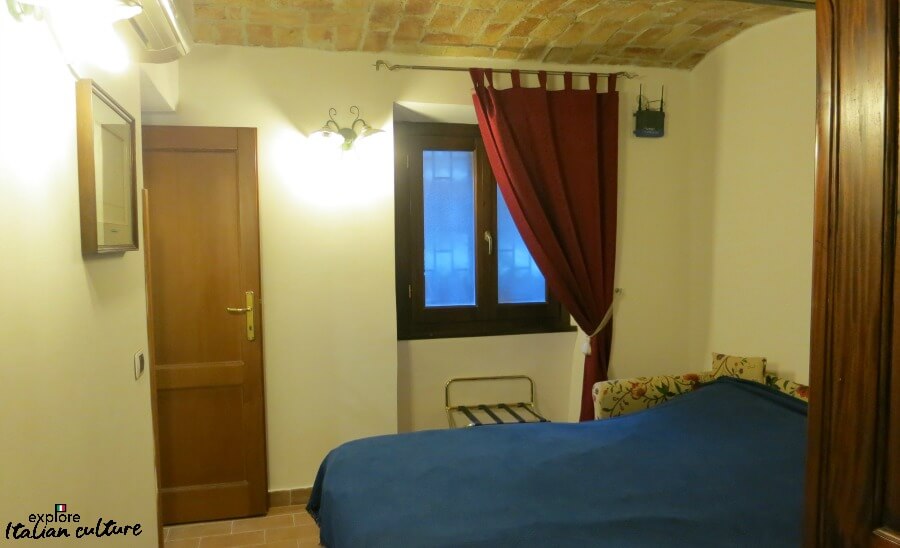 Click to book at the Hotel Gea on Booking.com.
Bathrooms.
The bathrooms are quite large (for central Rome - don't expect American sizes!) and spotlessly clean.
The shower cubicles are spacious, and the water pressure in the showers is excellent (it's a particular requirement of mine!).
And there are many, many mirrors!
They include a nice quality shower gel and shampoo, and your towels will be changed every day if you so wish (though in the interests of the environment try to leave it longer than that!).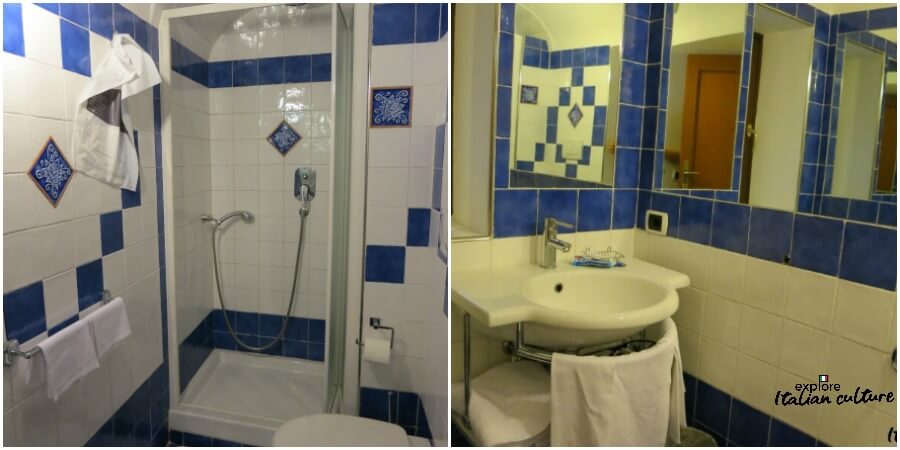 Hotel Gea di Vulcano: public areas.
Public rooms are limited to the small reception area, a comfortable sitting area and a little bar. In the reception area you'll find a laptop for guests' use if you haven't brought your own.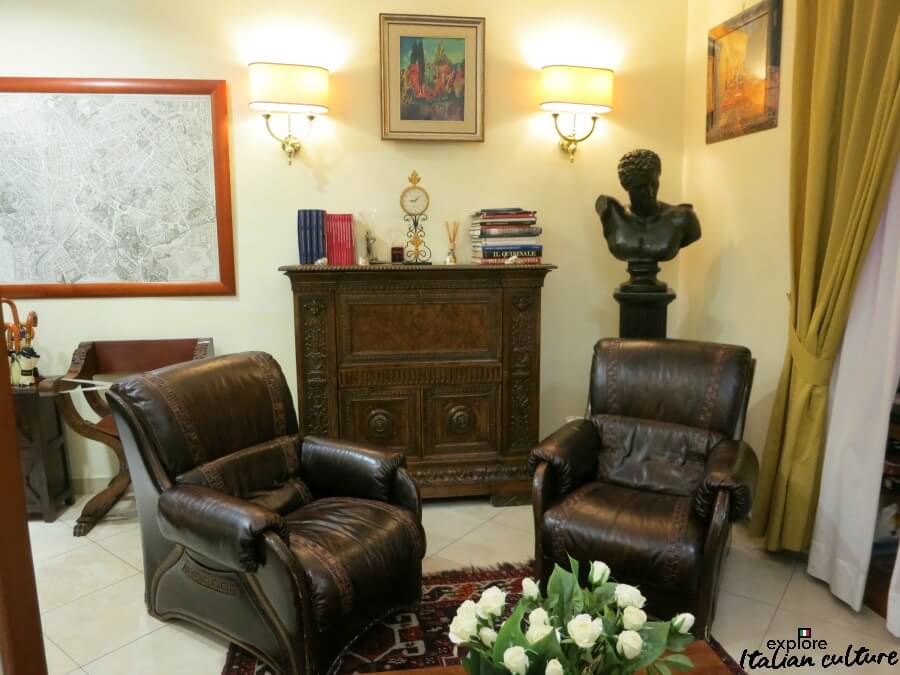 Hotel Gea's small but comfortable sitting area. Click to book at Booking.com.
Eating at and near the Hotel Gea di Vulcano.
Like many small hotels in Rome, the Gea doesn't have a restaurant. Breakfast is served in the small breakfast room. Don't expect gourmet: it's a cold buffet with a selection of pastries, breads and cold meats and cheeses.
Unusually, the staff will arrange a self-service early breakfast buffet if you need to depart before normal service hours.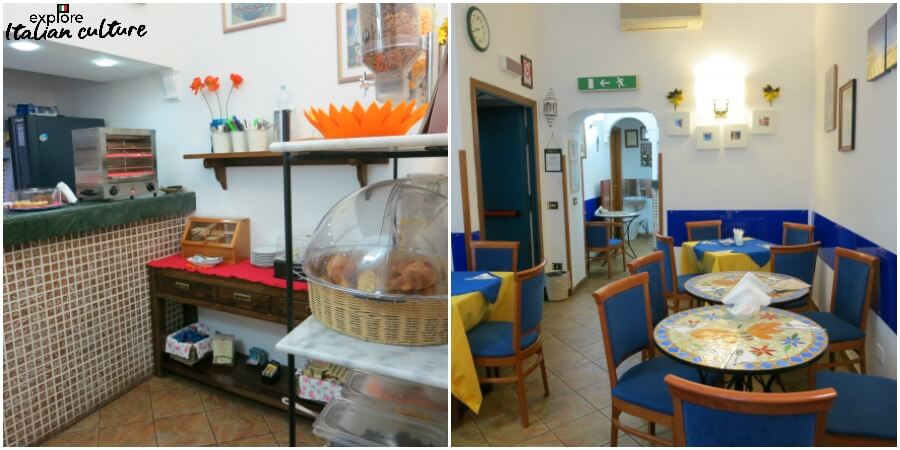 The breakfast room at the Hotel Gea.
The Via Nazionale is full of cafés and restaurants and there's a supermarket a few doors down from the Gea where you can stock up with drinks and lunches very cheaply.
For a reasonably priced meal try the Bar Ristorante Barocco by the rear entrance of the hotel in Via Napoli. It's a basic but good restaurant and in the warmer months you can even sit outside to eat.
And if you cross the Via Nazionale and walk right down the other half of the Via Napoli (almost to the bottom - cross over the Via Viminale and keep going) you'll come across the "Trattoria Antica Bohème", also known as the Trattoria Abruzzese. It's used by locals, has good basic food and for Rome, is pretty inexpensive.
Staff at the Hotel Gea di Vulcano.
The staff in the Gea turn this hotel into a truly special place. The managers are a Roman family who want nothing more than for you to enjoy Rome. Thanks to them, while you're staying here you'll feel like you're a special guest and truly part of real Italian culture.
The receptionists are multi-lingual and although there is no formal 'concierge' service you'll get in a larger hotel, they will happily recommend places to eat, keep you informed about local events happening while you're there, and arrange a taxi to the airport should you require one.
They'll also help with the lift (elevator) up from the front entrance, which is tiny and can be a little temperamental.
Children are an important part of Italian culture and because the Gea is family run, children are regarded as important guests here. That makes it one of the best hotels in Rome for kids.
The rooms are quiet, the staff are excellent with children, it's just a couple of minutes' walk from the 'hop on, hop off' bus if small legs are too tired to walk, there's a Pizzeria just round the corner - and if you have kids who are really desperate for some fast food, there's even a McDonald's a few yards from the hotel, on the corner of the Via Nazionale and Via Firenze.
Perfect.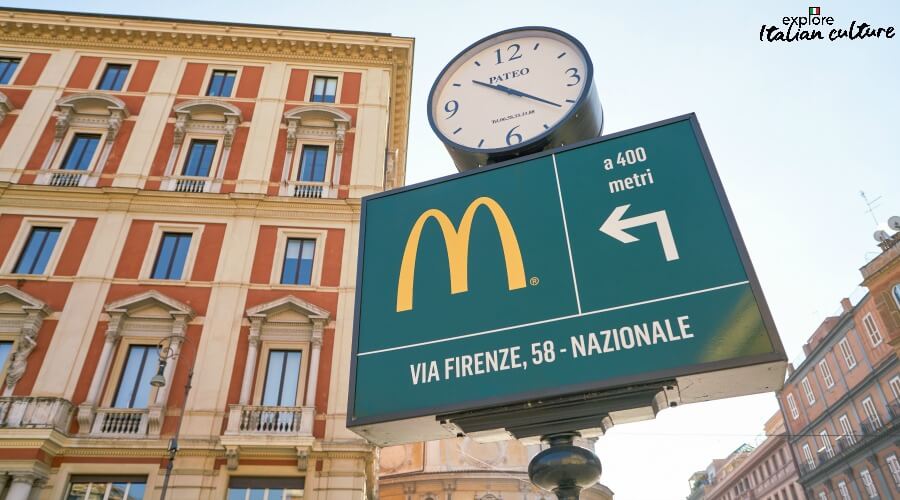 Watch for the inevitable "Golden Arches" symbol all over Rome.
Hotel Gea's precise location.
The Hotel Gea is situated on the first floor of a lovely 18th Century 'Palazzo' very typical of this part of Rome, built around an enclosed courtyard. But it can be easily missed if you're not sure what you're looking for.
Head down the Nazionale towards the Via Firenze. Look out for a beautiful church in red and white striped brick: this is the Church of San Paolo Dentro le Mura (Saint Paul's Within the Walls). The Hotel Gea is almost directly opposite. You'll see large wooden doors and a sign on the left.
If the doors are closed (which they are on Sundays) use the intercom on the right hand side. At night you will need to enter from the side door at number 51 Via Napoli. Look for large green doors, again with an intercom.
Incidentally - this very distinctive church of St Paul's Within the Walls is an active American Episcopalian Church which celebrates Eucharist every Sunday and has full programmes (in English) at Easter, Christmas and Thanksgiving. 
It also often hosts opera and classical music performances which are excellent and very reasonably priced - and you don't have far to go back to your hotel!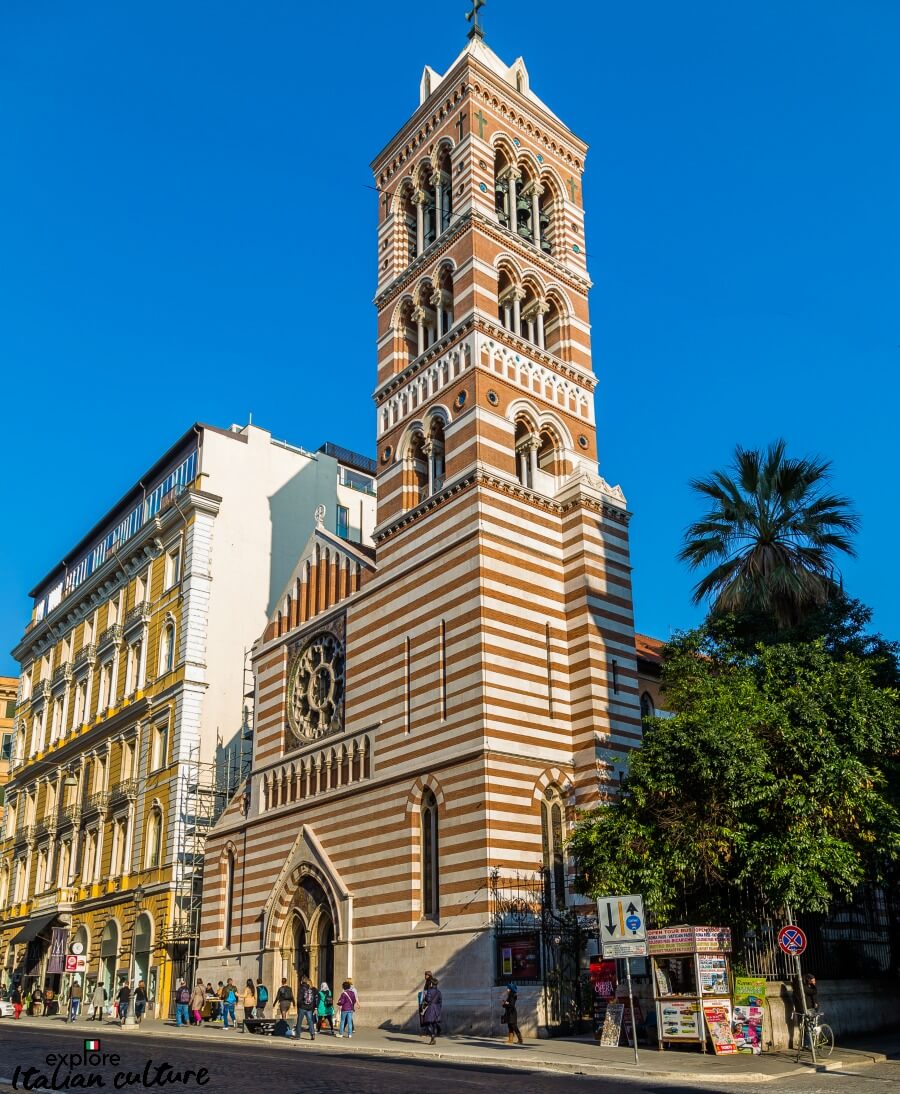 The distinctive church of Saint Paul's Within the Walls on the Via Nazionale: the American church in Rome.
The Hotel Gea di Vulcano, Rome: do stay here if...
You're searching for exceptional, relatively inexpensive hotel in Rome which is within walking distance of the centre.
You'd like a hotel which caters for kids.
You want to stay in the middle of a lively shopping area with some good local places to eat.

Don't stay here if...
You're looking for a Rome 5 star hotel. If you're a couple wanting a quiet hotel with traditional service, the Hotel Hassler would be ideal and if you're a family wanting luxury accommodation, the Hotel Russie is one of the best hotels in Rome.

How to book the Hotel Gea.
Use the search box below. Enter your preferred dates and click on "Search", or check "I don't have specific dates yet".
You will be taken to a separate page provided by our partner hotel booking service, Booking.com, and you'll be able to see both this hotel, and others of a similar price.
We hope you find this a useful service.


Top Tip :

If you love shoes, you should visit Geppy Roma - a shoe shop close to the hotel at Via Nazionale, 6.
It sells high quality leather Italian shoes and handbags much more cheaply than the more 'upmarket' shops in central Rome. 
You'll also find street vendors on the Via Nazionale selling counterfeit handbags and sunglasses. As long as you don't think you're buying the original thing, they're generally good value.

Here are some more pages about staying in Rome.
---

Click to go back to the home page.