Rome's climate in winter.

Visiting Rome in the winter and want to know what the weather will be like?
Here you'll find all the information you need: climate, temperature, what there is to do at this time of year and what you should pack to be ready - whatever the weather.
And yes - it does sometimes snow in Rome!
It may be wet, it may even sometimes be grey, but we love Rome at any time of year - and the winter is no exception.
In fact, we actively plan to visit Rome every December and January. It's a magical time as the city gears up for Christmas, celebrates New Year, and then winds down quietly, waiting for Spring.
It isn't as crowded as during the summer, restaurant prices aren't hiked, and all the monuments are open.
So if you're planning a trip at this time of year, you've chosen well.

Rome's climate : when is winter?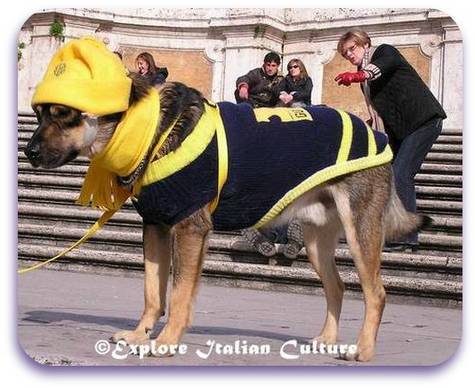 Even the dogs dress warmly in winter! Spanish Steps, January.
Our Italian friends start donning coats and scarves from early September when the temperatures start to fall very slightly. But the real winter months are from mid November until Spring starts to break through in April.

Rome's climate : winter temperatures.
Temperatures in the run-up to Christmas are usually still quite mild, rarely falling below freezing. January tends to be the coldest month with temperatures averaging from 1°C (34°F) to a high of 12°C (54°F).
Snow is virtually unheard of, although having said that it fell in 2010 after an absence of twenty-one years, and in 2012 was heavy enough to keep the Colosseum closed for several weeks in February and March.
The lesson? - Be prepared! Book a hotel with a good heating system and pack warm clothes, a waterproof jacket, an umbrella and some good shoes for walking around the city. There's nothing worse than squelchy feet!

Does it rain?

Oh yes, it certainly rains. 
Winter weather in Rome, and in central and southern Italy generally, may be reasonably mild but it can be very wet. The wettest months are November and December but it can carry on raining right through until March.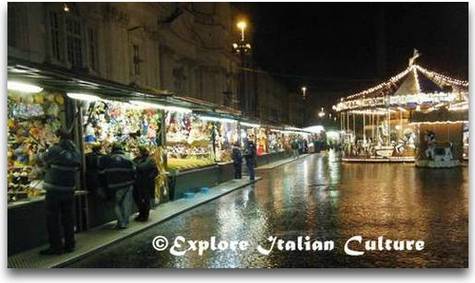 Piazza Navona, Rome, on a rainy December day.
The River Tiber has a history of flooding during the winter months but there's no need to worry. The city itself is rarely affected - you'll see the high embankment walls running alongside the river. Built in the 19th Century, they contain any rise in water level.
Even so, make sure you pack that raincoat and umbrella, and scarves are a comfort in March when icy winds are often a feature.
Ads by Google.

What's good about Rome's climate in winter?

This was taken the morning after the last pic.
Rain often doesn't last for long, skies can suddenly turn bright blue, the air is really fresh and colours seem more vivid.
Even though Christmas in Rome is a big draw for pilgrims, there aren't as many tourists about in winter making it an excellent time to see the sights without the queues of summer.
Imagine - the Trevi Fountain all to yourself!
It's a bit chilly to sit outside but many cafes and restaurants have outdoor patio heaters to extend the 'al fresco' season into winter.

Things to do in Rome in the winter.

In November and December the city is gearing up to Christmas, which is one of the biggest times in its calendar. Churches, shops and districts are getting their nativity scenes ready, street markets sell brightly coloured winter flowers and delicious marzipan treats, and families are stocking up with food for the holiday period.
One of the nicest things to do in Rome at this pre-Christmas period is just wander round the streets, find the markets - the Piazza Navona and Campo dei Fiori are wonderful - and enjoy the sights and smells.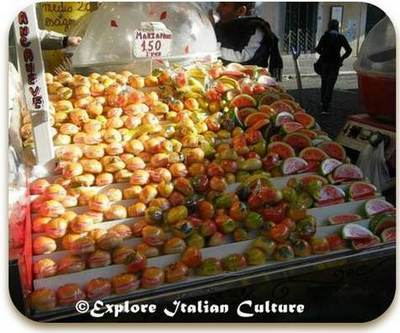 Marzipan treats, Piazza Navona market, December.
Rome's climate in winter makes Christmas shopping a treat!

Be sure to wander along the Via Condotti and look at the stylish Christmas decorations. You'll be stunned.
Christmas in Italy is nowhere near as commercialised as in other parts of the world - it's still very much a religious festival - and the decor is low-key and elegant.
'Presepi' or nativity scenes are a massive part of Italian Christmas culture - so much so that we've given them their own page.
On New Year's Eve party-goers do what New Year revellers the world over do. In Rome the party takes place in the Piazza del Popolo - but expect a more muted event than you might be used to in London or Times Square.
The post-Christmas sales in the shops begin on the first Friday of January and not before; February sees days becoming longer and by March, the weather is beginning to warm up again.
And one of the most enjoyable things to do in Rome during the whole of the winter period is enjoy hot roasted chestnuts, sold on street corners and at the open air markets.
Not only are they delicious - the hot chestnuts warm your hands on a cold winter's day!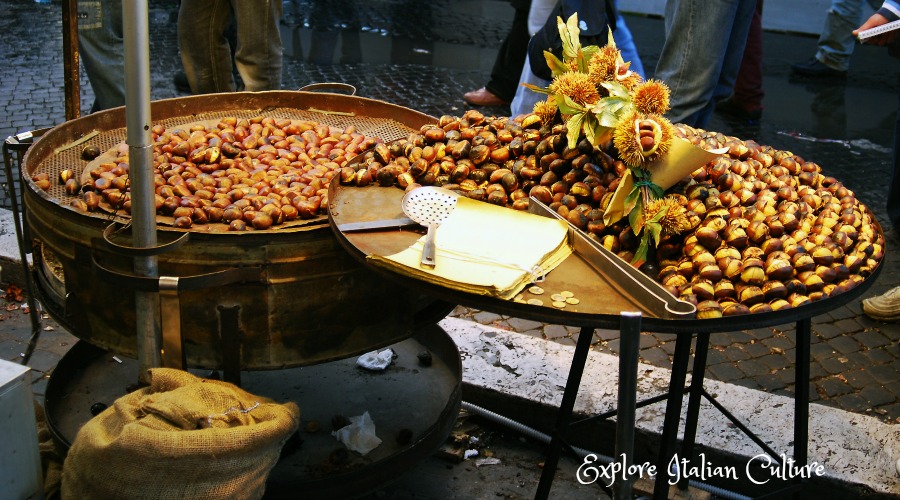 Chestnut sellers are always a popular sight in Rome during the winter.
Did you find this article useful?
If so, we'd really, really appreciate you clicking the little button here - show us you care!
Travelling soon and need to know what to pack?

Sometimes a more general check on Rome's climate just isn't enough.
If you're travelling within the next few days, this link will let you take a look at the weather today, for absolutely up-to-date conditions.
You'll also find links there to a handy three and six day forecast.

---

Planning a trip to Rome at Christmas?

You may find these pages particularly helpful. Just click on the pic!
---
Looking for some Italian Christmas gifts?
If you liked this page, please let others know by sharing. Just click any of these buttons - it only takes a second!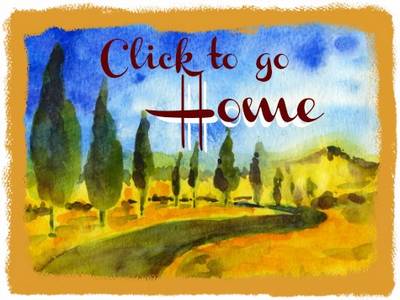 Ads by Google.
Some links on this page are affiliate links, which means that if you purchase a product through them, we receive a small commission. There is no extra cost to you.  This helps me keep the information on the website free of charge.  Because our integrity and your satisfaction are very important to us, we only recommend products we have purchased or would purchase ourselves, and which we believe would benefit you. To learn more please see our affiliates disclosure document.