Five top things to do at Christmas in Rome.

Markets, nativities, sparkling trees and a good witch - what they are, and where and when they happen.
Christmas anywhere in Italy is a very special experience and Christmas in Rome is one of the best of all times to be there.
Here's five must-dos
if you're in the Eternal City at this amazing time of year.
1. See 'Presepe' : one of Italy's oldest Christmas traditions.
Try to brave the cold and wet of Rome's climate in winter to see some of the amazing life-sized nativity scenes, known as 'Presepe' ('Presepi' in the plural) to be found in every church, shop window and some more unlikely places : in front of Termini station, on the second level of the Spanish Steps, on the Capitoline Hill.
Roman 'Presepi' aren't just images of the stable but of entire villages, towns, and sometimes regions. Some are of dubious artistic quality, others are extremely old and valuable, but almost all their settings are beautiful. Kids love them!
When and where to find the 'presepi'.
Although Italian nativity scenes start to be built from early December you won't be able to see the large ones 'live' until the week before Christmas.
But if you keep your eyes open you'll find them everywhere from early December : shop windows (no matter what the shop is selling), restaurants, outside houses and schools - all of them different, creative and original.
The best of the large, traditional scenes are to be found outside St Peter's Basilica, at the Spanish Steps and at the Piazza Navona.
All Rome's churches also have a nativity : Santa Maria Maggiore is said to be the oldest and those at the church of San Marcello on the Via del Corso, San Cosimo and Damiano, Santa Maria in Trastevere and the American church of Santa Susanna are some of the most popular. You''' quite often see Italian families visiting a number of different churches to see the Presepe in the days after Christmas.
Don't expect to find the child in the manger in any of them, though, until after midnight on Christmas Eve.
If you miss them, there's a display of nativity scenes from around the world every year between
2. See St Peter's nativity being built.
If you're in Rome before Christmas week you'll find it hard to see the finished nativities - they're kept under wraps until the very last minute. Unlike the United States and other parts of Europe, Italians tend to keep Christmas festivities and decorations to Christmas itself.
Ducks wait to take their place in St Peter's nativity scene, Rome.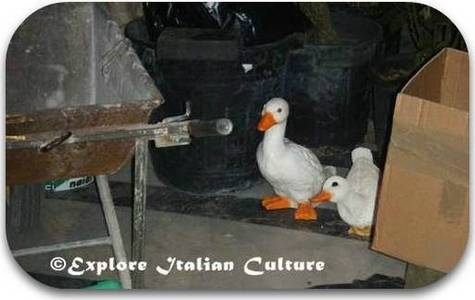 One thing you can do, though, is go into St Peter's Basilica itself and have a look at the workmen making one of the most detailed of all Rome's nativity scenes. It's fascinating to watch them build not just the stable but an entire village, complete with flocks of sheep, ducks - and a pizza oven!
3. Learn about 'La Befana'.
You'll see images of La Befana, or the good witch, all over Italy at Christmas and despite the city's more religious emphasis at this time of year, Rome is no exception.
Santa Claus is a relatively recent introduction as far as Italians are concerned; La Befana is the person who brings gifts to the children - and she doesn't do it until the feast of the Epiphany on January 6th.
There's a whole tradition surrounding La Befana.
4. Visit the Piazza Navona Chistmas market.
At Piazza Navona during December, as well as its own life-size crib, there's a famous Italian Christmas market at which you can buy both your very own Befana, and models for your own 'Presepe' - not just the usual figures but some highly elaborate moving models representative of Italy's rural culture : working windmills and watermills, fishermen, bakers with glowing bread ovens, chicken-ladies and more!


There are also stalls selling beautiful Christmas wreaths, sparkling jewellery and sweets as well as a small carousel beloved by children of all ages.

Don't miss this market - it's a brilliant atmosphere and a definite part of an Italian Christmas in Rome. It's best seen at night when all the stalls are brightly lit and the chestnut-sellers are doing a roaring trade.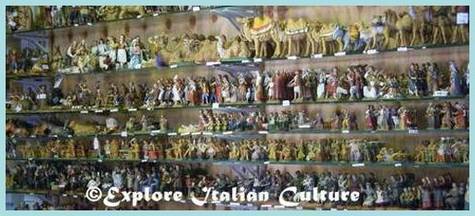 One of the many 'Presepe' stalls on Piazza Navona's Christmas market
5. See Christmas Trees!
Christmas trees, like Santa Claus, have not been a big part of celebrations of Christmas in Italy until relatively recently. They're starting to become more popular though, and if you're lucky enough to be in Rome in December you'll see massive Christmas trees at various points around the city.
Shops and homes now also have trees but they tend to be decorated much more simply than we were used to in the US or UK, often just with lights.
Don't miss the enormous tree just next to Rome's largest nativity scene in St Peter's Square. It's set up during the second week in December but not unveiled or lit until Christmas week.
Two other trees of note are in front of the Colosseum and at the Piazza Venezia. They all remain in place until the Feat of the Epiphany on January 6th.
More things to do in Rome in December.
On Christmas Eve the Pope celebrates midnight mass on St Peter's Square and on Christmas Day he gives his famous "urbi et orbi" blessing from the balcony above St Peter's Basilica. Pilgrims and Roman citizens alike flock to hear it. Tickets are required for the midnight mass but not for the blessing.

See this page about the Pope to discover how to get tickets - but book well in advance.

December 26thearly January
New Year in Rome.
New Year celebrations tend to be rather muted after the excesses of Christmas in Italy, but in Rome you'll find the party-goers in the Piazza del Popolo doing what New Year's revellers do the world over.
---

Click to go back to the home page.