Fresh Pasta Recipe Book.



Thirty Minute Pasta : 100 Quick and Easy Recipes -
Giuliano Hazan.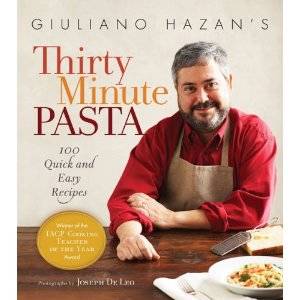 This is a hardcover book which makes it a great gift for the person who loves pasta but doesn't have a lot of time for cooking.



The recipes vary from soups and salads to meat and seafood main meals, and a definite plus are the vegetarian options - not a common feature of Italian cook books.



Although he is Italian and runs a cooking school near Verona, Italy, many of the recipes are Italian with an American 'spin'. They are, as the title suggests, quick and easy to make with simple ingredients.



But like any good Italian cook, he always recommends using the freshest possible ingredients and keeping the sauces simple but delicious. From personal experience we can safely say no-one will believe such delicious food has taken such a short time to prepare!



Furthermore, this book is well written, beautifully laid out and has the most wonderful pictures.



A gorgeous, inexpensive gift which will keep on giving time and time again!





---
From 'Thirty Minute Pasta'
to our main Italian pasta recipe books page.
Join in and write your own page! It's easy to do. How? Simply click here to return to Pasta recipe books.
---

Click to go back to the home page.