The Spinone Italiano dog  : the best family pet - ever!
Want to know which is the best dog for children?

We look at the Spinone Italiano dog, its temperament, and whether it could be the perfect dog breed for your family.


What do you think makes the best family dog?
For us it would be a loyal, patient, affectionate, gentle, calm companion with a sense of fun and a great sense of humour who isn't easily spooked.
Which describes the Spinone Italiano dog to a 't' - and that's why, in our experience, it makes the most amazing family pet and the best dog for children we have ever come across.

What makes us qualified to say?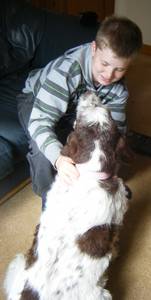 Our Spinone Ellie talks to our nephew Harry.


We have a Spinone rescue dog - Ellie - who is very typical of her breed. 
However much she might enjoy going for long walks - and she does! - she just as much enjoys hanging out with the family.
And she doesn't mind whether that means sleeping in front of the fire in the winter, or splashing round in the paddling pool on a hot summer's day.
She's fun, she's funny, she loves the younger members of the family - and they love her.
But don't just take our word for it. Ask anyone with an Italian Spinone dog and they'll tell you the same.

Why is the Spinone Italiano the best dog for children?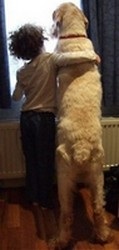 Because the Spinone Italiano dog is a gentle, patient, loving, happy breed. 
Although he is used widely as an Italian hunting dog, the Spin is not just child friendly - he adores children, loves nothing more than to be part of a family, loves being with other animals - including cats - and loves nothing more than jumping in the back of the car and going travelling with the family. 
A joy to live with, he will want to be involved in whatever you and your family are doing, whether that's going for a long walk or lazing around watching T.V. 
He's one of the most social of all Italian animals and will bond with the family very quickly. He's affectionate with everyone and a clown if he thinks it will get him more attention. 
The Italian Spinone is so easy going and easy to look after that he's well suited to inexperienced dog owners as well as those who have had dogs before. His personality makes him an excellent 'Pets as Therapy' dog too.

Are there any drawbacks that make the Italian Spinone not the best family dog?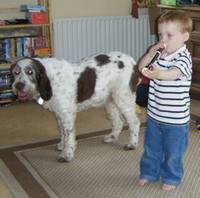 Our Spinone Ellie chills out
with baby William.


We would always advise against leaving any dog breed with a small child.
All dogs, no matter what their size and personality, are wolves at their core and can be frightened by the sudden movements or high-pitched screams of small children.
Having said that, there's only one drawback to a Spinone with kids. One of the larger Italian dog breeds, the Spin's specifications mean that his size, weight and energy make him quite a large, heavy and powerful dog.
That makes it important to keep an eye on him around very small children, especially if you have a young and enthusiastic dog. He's a very gentle breed and  won't mean to hurt, but in his good-natured enthusiasm may just knock a little person over.
Oh - and one final thing - you'll need a sense of humour.
Have a look at this story - typical of Italian Spinone puppies - and you'll begin to understand why.

Still not sure if the Spin is the best family dog ever?
Just have a look at this lovely clip of a very patient Spinone Italiano dog called Maximus. If nothing else has convinced you, we think Maximus will!

All the information you need about the best family dog in the world!
---

Click to go back to the home page.