Waterbus map : Venice, Italy.
Waterbus map of Venice, Italy.


This inexpensive little map of 'Vaporetto' routes is a must-have if you're visiting Venice and want to move around by boat.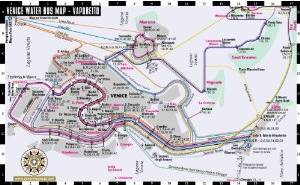 The best, cheapest, most efficient and most fun way of getting round Venice is by waterbus. Once you get the hang of thinking of them just as an ordinary bus service, you'll love this as a method of transport.



But you do need to work out which bus is going where, and this waterbus map of Venice (Italy) is ideal for that.



It uses colour to indicate different routes and clearly shows which line is which and where all the stops are.



It's inexpensive, it's easy to understand and it's accurate. It will give you the confidence to use the 'Vaporettos' all the time.



Put it in your shopping cart now!




---
Use this link for more information about other Venice maps.

Venice, Italy map to
our home page about Italian culture.

Join in and write your own page! It's easy to do. How? Simply click here to return to Venice maps.
---

Click to go back to the home page.