Carnevale masks : Swarovski cat.
Italian Carnevale masks :
Swarovski studded multi-coloured cat.



'Il Gatto Arco', the multi-coloured cat, is one of the most colourful of Italian Carnevale masks.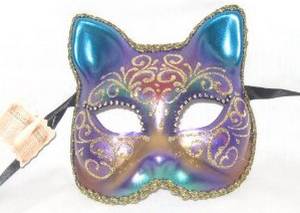 This stunning multi coloured cat is one of the half-face Italian Carnevele masks. Gorgeous at any masquerade party combined with a full blown cat outfit - or a girly fancy dress.



The majority of genuine Venetian masquerade masks are made from papier mâché as this one is. That makes it very light to wear. Additionally, because it's only a half face, there will be no problem in eating or talking - so it's ideal for a whole night's entertainment.



Italian Carnevale masks are worn above all for fun and this one is a perfect example. Hand painted in blue, purple, gold and green it is outlined in gold cord and decorated all over with golden glitter. It ties behind the head with traditional black ribbon.



But perhaps its greatest asset is the Swarovski crystals which outline the top of the eye. Designed to catch the light as the head moves, it makes this design at the same time truly original and timelessly elegant.



Like all the Carnevale masks we promote, this is designed and created by traditional Venetian craft workers in Venice, Italy. It comes with a certificate of authenticity so you know you're getting the real thing.



This is an ideal mask for any number of special occasions, from a student prom to an Italian themed party. Wearing it you will without doubt feel like the cat who got the cream!




---
Use this link for more information about
other Venetian Carnival masks.




Join in and write your own page! It's easy to do. How? Simply click here to return to Masquerade masks.
---

Click to go back to the home page.