Favourite Italian fish recipes :  crab with fettucini
Crab with fettucini is one of the easiest Italian fish recipes we know - and you don't even have to know how to cook crabs!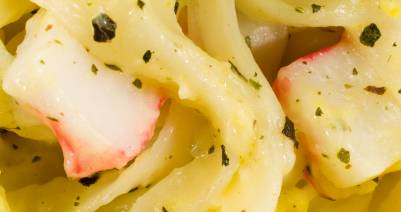 Italian fish recipes - is this one of the easiest?
The beauty of this dish is it can be as simple or as complicated as you want it to be.  If you want to use fresh crab you can; if you want to make your own pasta you can do that too.
On the other hand, if you want a very quick meal using items which are mostly found in your store cupboard, you can make it that easy.
Either way, you'll end up with one of the most delicious fettucini recipes we know.

Why fettucine?
Actually, this can be made with any pasta. It does go particularly well with fettucini because the sauce clings to the strands. But if you want to substitute spaghetti or linguine, for example, feel free!
This recipe is enough to feed four people as a main meal.

Italian fish recipes : ingredients
✱  1 fresh crab, cooked (if you need to know how to cook crabs use this link)
✱  1 tin (170 grammes, 6 oz) crab meat, rinsed in cold water
✱  500 grammes (17 oz) fresh or dried fettucini (or spaghetti, linguini or pasta of your choice)
✱  1 red chilli pepper
✱  1 clove garlic
✱  2 tablespoons flat leafed parsley
✱  100 mls (3.5 fluid oz)  white wine (can be left out)
✱  1 lemon
✱  A splash of good quality olive oil

How to make it
✱  Chop the chilli pepper, garlic and parsley very finely
✱  In a frying pan, put some extra virgin olive oil on a medium heat
✱  Add the garlic and pepper and fry  for one minute
✱  Pour in the wine and keep the heat quite high so that the alcohol evaporates and the mixture reduces; this will take a couple of minutes
✱  Now add the crème fraîche and stir well until it has mixed in
✱  Add the crab meat, parsley and the juice of half the lemon and stir in well
✱  Taste, and add salt and pepper if you like
✱  When cooked (which will only take a couple of minutes), add the pasta into the sauce mix and toss together (never add the sauce to the pasta - it won't coat it properly)
✱  Serve with a slice of the other half lemon
And there you have it - one of our favourite Italian fish recipes of all time, in minutes!

BUON APPETITO!

---
Want to make your own fresh pasta but don't have the time?  Have a look at our review of the best Italian pasta machine - the Lello Pastamaster - which will do it all for you!
If you like this recipe, you'll love our Italian fish soup - a filling meal in a bowl!
---
If you love fettucuni, you'll love our other simple but delicious pasta recipes - a healthy choice for all the family.
---

Click to go back to the home page.