Home › How to make pasta › Imperia 'Cucina Pro' SP150 review.
The best pasta maker : Imperia's 'Cucina Pro' SP150.


If you want a good, solid machine which even Italian people say is the best pasta maker ever, you've just found it.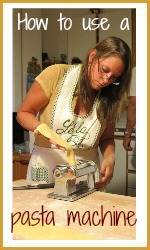 How do we know?
Simple. We live in Italy, and our Italian friend Graziella (from whom we learn all about everyday Italian recipes) uses it each day. So does her mother-in-law, sister-in-law, friend down the road - and not forgetting aunty Gabriella.
They all use it to make some of the tastiest authentic Italian pasta on the planet. And they use it every single day.

We were convinced by that - so we bought one too. It's now a crucial part of our kitchen, and one we wouldn't be without.
Let me tell you why.
Why it's the best pasta maker.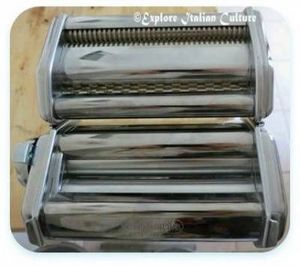 Imperia is an old, traditional, well-established Italian company.


Its factory in Turin uses only the best Italian components and is staffed entirely by local Italian workers. No sub-standard parts here!



The name is known for high specification, long-lasting products promoting traditional Italian cooking, which mean you'll be using the same machine millions of Italian families use to make their pasta every day.


Its reputation means it exports to seventy-seven countries worldwide - it's the biggest exporter of Italian pasta machines to the United States.
Other makes are available but none of them can beat the Imperia for quality.
How does it work?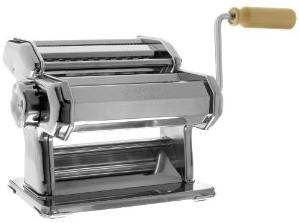 Click on this link to buy now from Amazon.
The machine attaches by a clamp to a work surface and the rollers are turned by a handle on its side.


The main body of the machine has two rollers - pass the dough between them to roll it into increasingly thin sheets.
The dial on the side narrows the space between the rollers giving thinner, longer pasta at each passing.
The Imperia's dial thins the pasta and idens or narrows the strips.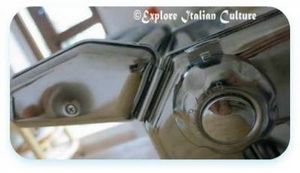 The cutting attachment slides into the top and cuts the pasta into wide or narrow shapes, depending on where you set the dial.



Additional attachments can be bought to create a whole variety of different shapes.
What are its advantages?
This is above all a sturdy, well-built machine. The best pasta maker needs to be robust - and this one is.



The attachments are simple to fit and sit firmly on the machine.



The cutting attachment is sturdily made and fits easily onto the machine.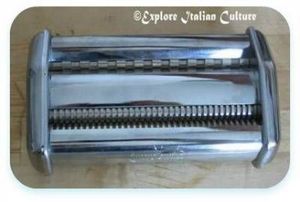 The handle mechanism and rollers work very smoothly, making it simple to use.



Cleans easily - just keep it well floured when using to avoid clogging, and when finished, wipe clean.



The additional attachments available (we love the ravioli maker) make great birthday or Christmas presents!



The machine is guaranteed against breakage for five years.
Are there any disadvantages?
Not really. Some people find it fiddly, and it's certainly easier to do with two people. But overall it's an easy to use machine which does what it says on the box.

There are cheaper models on the market but they are much less well-built and tend to fall apart very quickly. It's well worth spending a bit more for this machine.



Ready to buy? Click the image below (or any image on this page).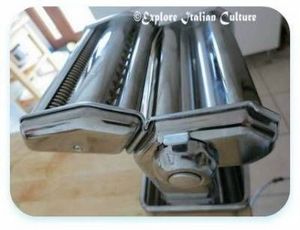 Sturdily built - our Imperia pasta machine.

What people say.
There are dozens of reviews of this machine on the internet; reviews on Amazon rate this the best pasta maker with a score of 4.5 stars out of 5. Some typical comments are :


"We can't believe the difference it makes to the quality of the pasta. It is so quick and easy to use and comes with some good advice and recipes".


"This is just superb - sturdy, solid, build to last and the rollers move smoothly and consistantly ... Choose this model and you'll never have the need to look elsewhere!".


"This is tough, resiliant, hardworking, and works wonderfully. Easy to set up, easy to use, simple to clean".
Conclusion.
This is an excellent product. It's robust, has a long guarantee, and makes excellent pasta. The fact that Italian people making pasta every day use it says it all, really.


And, once you've tried fresh, homemade pasta, you'll never look back!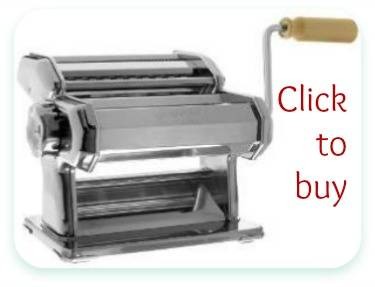 ---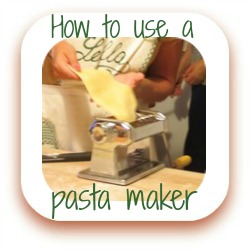 Want to see the Imperia SP150 in action?
Follow this link to our page about how to make authentic, fresh pasta using the Imperia pasta machine.
It was a lesson given by Graziella to our American cousins and made full use of what is generally agreed to be the best pasta maker available.
---
Want to make your own pasta but don't have much time?
We have a number of options to suit every family's needs. Click on the images below to have a look at the different ways of making pasta, from completely by hand to completely by machine.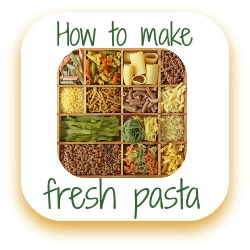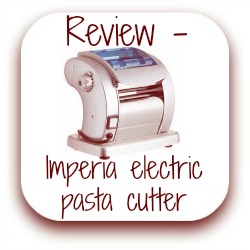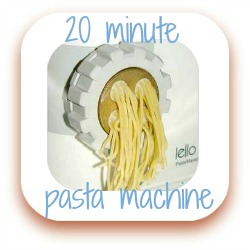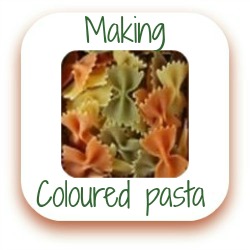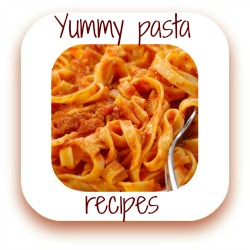 ---
Some links on this page are affiliate links, which means that if you purchase a product through them, we receive a small commission. There is no extra cost to you. To learn more please see our affiliates disclosure document.
---

Click to go back to the home page.