You are here :

Home

› Lello Italian pasta machine
Lello's Italian pasta machine :
how to make pasta in twenty minutes.

The ideal pasta maker for busy families!

Making authentic Italian pasta is easy, cheap and fun - but very time-consuming. Not everyone has hours to spend mixing, kneading, proving, rolling, thinning and cutting.
Making pasta is fun but time-consuming. Our friend Graziella teaches our cousin Stephen how!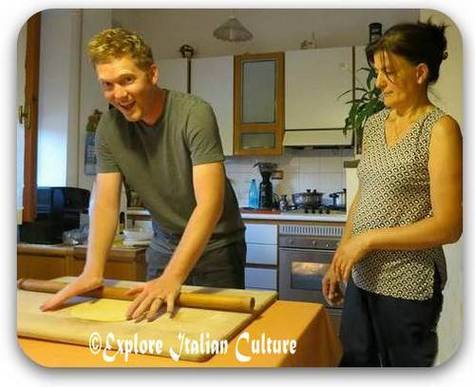 If that's you, but you'd still like to impress your family and friends with your home made pasta, this could be the answer you've been looking for.
Why choose Lello if it's not an Italian pasta machine?

It's true - we count this as one of the best electric pasta makers around, but it's not made in Italy. The Lello Appliances Corporation is an American company and this product is manufactured in China.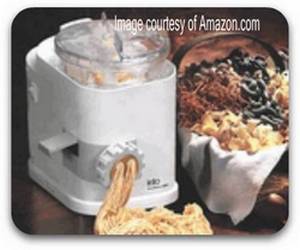 Still, it's the best on the market if you're looking for one which does the whole job for you. It has its drawbacks, and our Italian friends would think it madness to spend quite a lot of money on a machine to do a task they do every day.


But if you love fresh pasta, want to bring a healthy, authentic taste of Italy to mealtimes and have a big family, do a lot of entertaining, or just don't have enough time to make yours from scratch, this could be just the right machine for you.

Click here to buy from Amazon.
How does it work?

Very simply.


You put the raw ingredients in. Then you go and have a nice cup of cappuccino while the machine makes the dough, kneads it, rests it, stretches it and splurges out whichever shape you choose, all in about twenty minutes.


What are the advantages of having an Italian pasta
machine
?
It's very, very easy to use - you put the flour and eggs into the mixing chamber, push a switch and leave it!
It's a well built, solid, heavy duty machine with a large (300 watt) motor which can cope easily with large quantities of dough.
It's very quick - it can make up to three pounds of dough within twenty minutes.
It works well with whole grain flours as long as you use half wholegrain and half refined flour.
This being an Italian pasta machine, it can't have just one pasta shape - so it includes eight separate cutters to make eight different shapes including lasagne, spaghetti, linguine, fettucine and noodles.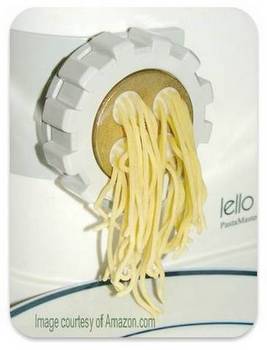 Additional discs (sold separately) can be used for ravioli, breadsticks, pretzels, pizza, gnocchi, hollow spaghetti, penne and shells.
It has a safety cut-off which stops the motor from over-heating, and the motor will not operate until the bowl and lid are firmly in place.
It comes apart easily for cleaning; let the dough dry on the machine before cleaning it off.
This machine comes with a twelve month guarantee.
Are there any disadvantages?
The pasta comes out of the machine very slowly - you need to have patience!You must follow the instructions exactly to get good results.
Don't rely on cups for measuring amounts - you need to be very precise and weigh the ingredients if you want a good consistency of dough that won't clog up the machine.
If you don't get the right consistency the machine will stop altogether. Buy a good digital kitchen scale and you'll be fine!
You need patience until you learn the exact quantities your machine works best with.
What people say about the Lello Italian pasta machine.
This machine scores a very creditable 4.5 of 5 stars on Amazon.com. These are some of the comments by people who bought it :


"Follow the instructions very carefully to get the best results, and get pastas with a taste and texture that dried products just can't match. You won't go back after you've tried this machine".


"I followed the directions exactly, and the pasta came out perfect".
"I balked at the price, but when we made the pastas it was so well worth it. It's a heavy duty machine and you can actually hear the motor remaining consistent and not struggling at all.
"We made delicious whole wheat pasta in less than 45 minutes. We dried it, vacuum sealed it and froze it. I HIGHLY recommend this product!!!"


"This is fun for the whole family! Reiterating other reviewers, as long as you follow the instructions on measurement, ingredients, etc., pasta comes out great".


"We have since then made healthy spinach and olive pastas. It is a fun machine and we are looking forward to moving onto rice noodles soon".
Conclusion.
If you love homemade pastas of any kind, but don't have the time to make it, this Italian pasta machine could be the answer.



It's not cheap but it's well made and should last for years.



It's important when using it to make sure you follow the instructions exactly, using a scale to ensure your ingredients are weighed exactly.



If it makes too much for you to eat all at once just dry it, wrap it and freeze it.



It's an excellent investment if you don't have the time or the inclination to make fresh pastas.



Kids love watching the different shapes being squeezed out of the machine!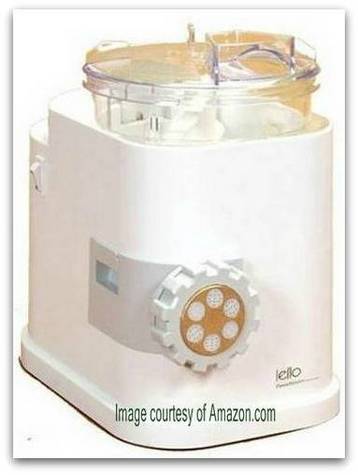 ---
If you'd like some of the fun but want help electrically after the kneading stage, the 'Imperia Presto', an Italian pasta machine great for thinning and cutting your hand-made pasta, could be the answer.

Click on the link above or the picture below to have a look at our review.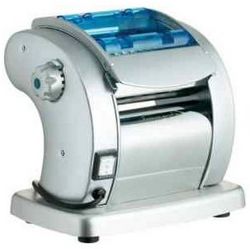 ---
Some links on this page are affiliate links, which means that if you purchase a product through them, we receive a small commission. There is no extra cost to you. To learn more please see our affiliates disclosure document.
---

Click to go back to the home page.