The Italian national anthem: learn it, sing it, understand it.
Ever been to an Italian soccer match or a local festa and wished you could join in with the national anthem? Or perhaps you've listened to it and wondered what it's all about.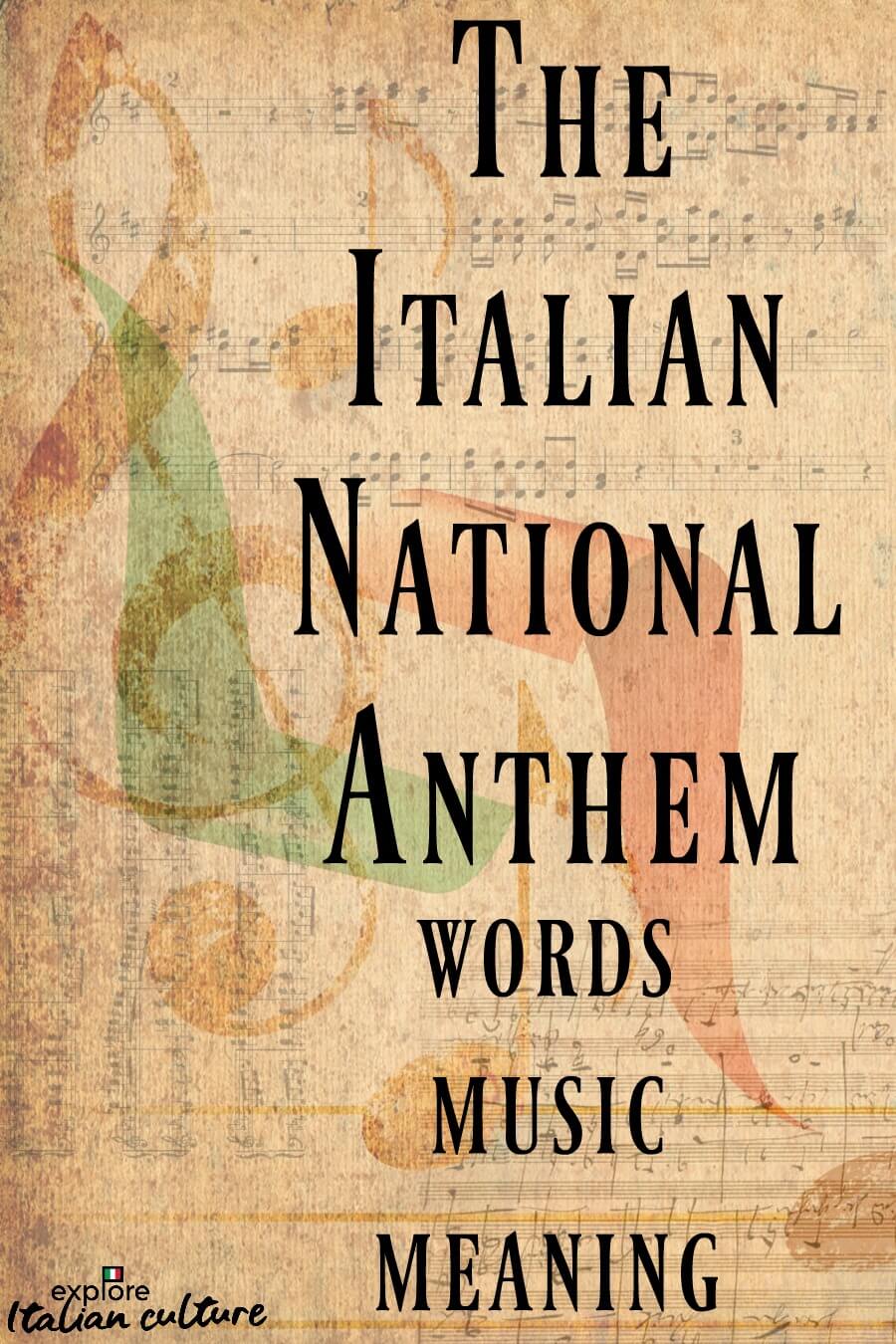 Italian people love their national anthem. They know it doesn't really make sense in places, particularly to outsiders, but it's a lively, vibrant song which they sing with huge enthusiasm - and defend it against any who may criticise it. 

Here's your chance to learn the words, tune and history of this all-time favourite.
So when you visit Italy and go to any event, you won't be left standing silently feeling uncomfortable.
You'll be able to join in with the rest! 

What's Italy's anthem called?
The national anthem of Italy has three different names.
Its official name is 'Inno di Mameli' - Mameli's hymn, named after the man who wrote the words. 
'Il Canto degli Italiani' - 'the song of the Italian people' is its populist name.
Its most well-known name, and the name Italian people almost invariably give it, is  'Fratelli d'Italia' - 'Brothers of Italy' - which is also its first line.

The Italian national anthem: background.
Like all great national anthems, Italy's was written in the shadow of war and is a patriotic call to arms - with rousing music to match.
Written in 1847, during the first battles for Italian unification ('Il Risorgimento') it was provisionally adopted as the Italian national anthem only in 1946.

Even more surprisingly, it was made the official anthem by law as recently as November 2005.
The music, written by Michele Novaro, is a fairly typical Italian marching type and is generally regarded as poor by musicians and critics.
But it's catchy, it's typically boisterous, can become quite rowdy towards the end when the musical direction is "crescendo e accelerando sino alla fine" - "growing and accelerating to the end".
Everyone in Italy, with very few exceptions, loves it.
Take a moment to listen as André Rieu and his Johann Strauss orchestra play it live for the residents of Cortona, Italy - and watch their reaction.
The Italian national anthem: who wrote it and what does it mean?
Goffredo Mameli.
The words were written by a twenty year-old poet and composer, Goffredo Mameli, who tragically died only two years after he'd finished composing it. He wasn't well known and this was his only masterpiece.

The complete anthem has a total of five verses and a chorus which is sung between each.
However, in present day Italian culture, traditions dictate that at every official occasion only the first verse and the chorus are sung.
The verse is repeated, and the anthem ends with an always very energetic "Sì!"
But do the words actually make any sense?
Some politicians in Italy have tried to get rid of its national anthem on the grounds that, as Umberto Bossi - a prominent Italian politician - says, "no-one understands the lyrics anyway".

Take a look at the national anthem words and their English translation.
Fratelli d'Italia, l'Italia s'è desta;
Dell'elmo di Scipio s'è cinta la testa.

Dov'è la Vittoria? Le porga la chioma;

Ché schiava di Roma iddio la creò.
(Repeat).
Chorus:
Stringiamci a coorte! Siam pronti alla morte.

Siam pronti alla morte, l'Italia chiamò.

Stringiamci a coorte! Siam pronti alla morte.

Siam pronti alla morte,

L'Italia chiamò.

Sì!

Brothers of Italy, Italy has awoken,
Bound Scipio's helmet tight upon her head.
Where is Victory? Let her bow down;
Because God created her as slave of Rome.
(Repeat).
Chorus:
Let us unite! We are ready to die.
We are ready to die, Italy has called.
Let us unite! We are ready to die.
We are ready to die,
Italy has called.
Yes!
So, do the words make any sense?
Some of the lyrics relate to some fairly obscure episodes of Italian history which don't have much meaning in the modern world. But overall, this is a simple battle-cry, made dramatic by obscure references and rambunctious music.
Italy is ready to go to war to become free, and will be as victorious as Rome was in ancient times. 

But who on earth is 'Scipio'?!
He was one of the greatest generals of the Roman Republic, who beat the great Carthiginian commander, Hannibal.
So Italy has donned Scipio's helmet which will assure victory. And Victory herself must bow down, because Italy will dominate.
But no-one really cares about the exact meaning of the words. It's a rousing song, and despite some mutterings among politicians, it's hard to see anyone allowing it to be replaced.
Want to try learning to put words and music together?
This video, which provides you with the words of the anthem on screen as it is sung. It does go through all the (many!) verses so you'll need to stop it after the first!
If you really want to learn it, play it over and over until it's fixed in your brain.
It's the way we learned it!

The Italian national anthem: the former Prime Minister's view.
Ex-Prime Minister Silvio Berlusconi seems to have some problem with the lyrics, too - but not for the same reason as others.
Have a look at this clip - and watch his hand at the phrase "Siam pronti alla morte" ("We're ready to die").
It seems he's not really so sure ...

(The first part of this clip is very poor quality - but it's still worth watching!)

A fun fact about Italy's national anthem.
The Italians do take some things very seriously, and their national anthem is one of them.
Not very long ago, the Bolzano Museum of Modern Art in northern Italy displayed a toilet which, when it was flushed, played the Italian national anthem.
The toilet was found to be an unpatriotic insult to the country of Italy - and impounded by the police, pending a trial in Italy's High Court to decide its future.
Defence lawyers argued that although the anthem does have sentimental and patriotic value, it is not a national symbol. Prosecutors argued that it is a national emblem which should not be belittled - and that flushing a toilet to the sound of 'Fratelli d'Italia' is laying it open to ridicule.
The Court's decision is still awaited.

And finally - one of the most harmonious versions of Fratelli d'Italia we've heard!
The women's voices are clear enough to be able to hear all the words. Enjoy!
---
Learn about these basics before you travel to Italy to help you  visit as a friend, not a tourist.
---

Click to go back to the home page.