Great Italian macaroni recipes : Maccheroni Bianchiverdi.
Maccheroni Bianchiverdi is one of the most delicious macaroni recipes we know - and takes minutes to make. If you're looking for an authentic Italian macaroni recipe you've found it.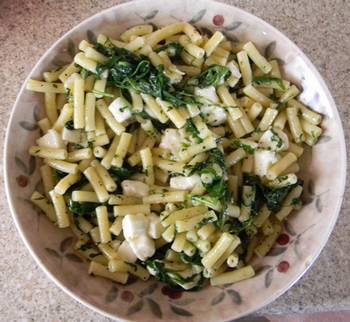 Why macaroni?
Macaroni is one of the best pastas to use with a cheese sauce.  Because it's thicker than spaghetti and rounder than tagliatelle, the creamy sauce clings to it much more easily.
This recipe is enough to feed four people as a main course.

Macaroni recipe : ingredients.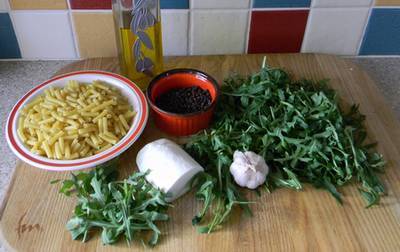 ✱  320 grammes (11 oz) macaroni - fresh or dried
✱  200 grammes (8 oz) Mozarella cheese, drained
✱  1 good sized bundle Rocket (U.S. - arugula) - we use about 150 grammes / 6 cups
✱  1 clove of garlic, finely chopped
✱  3 tablespoons extra virgin olive oil
✱  Salt and pepper to taste

How to make it.
✱  If you want a really great taste, try making your own pasta and leave to dry while you make the sauce.
✱  Wash and dry the Rocket (arugula) leaves, then rip it into thin strips.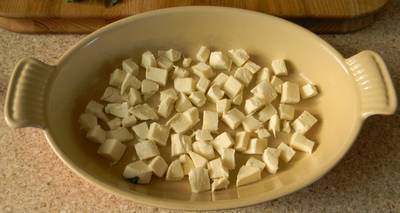 ✱  Drain the Mozarella and cut into small cubes. Arrange on a serving dish.
✱  Boil a pan full of water with a little salt; add the pasta and about half the Rocket leaves.
✱  In a frying pan, heat the oil and add the chopped garlic; cook on a low light to infuse the oil with the garlic.
✱  When it begins to go dark, remove from the heat.
✱  Drain the pasta, then toss it in the pan with the garlic and oil and put back on the heat to warm it through.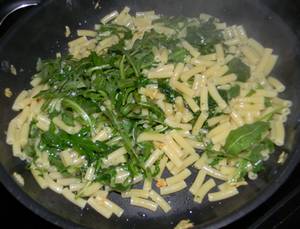 ✱  Add the remainder of the Rocket and toss together.
✱  Turn the pasta mixture onto the dish on top of the Mozarella. 
✱  We like to place the dish under a grill for a few minutes to brown the top and make sure the pasta is well heated through.
✱  Cover with freshly grated pepper and allow to stand for a couple of minutes to allow the cheese to melt.
✱  Serve onto individual dishes with the cheese layer on top so that it melts through the pasta layers.

Who will like this macaroni recipe?
This is one of the quickest and easiest recipes ever. Because of that, it's good for those on the go - anyone who loves good, fresh food but doesn't have a lot of time to cook.
It's also a particularly good meal for vegetarians as any good vegetarian cheese can be substituted for Mozarella.
We make it using a shop-bought low-fat Mozarella to make it as low calorie a recipe as possible - and it tastes just as good.

BUON APPETITO!
---
If you like this Macaroni recipe with Mozarella, you'll love our Caprese Italian salad recipe - a delight on a hot summer's day.
Have a look at our other Italian pasta recipes - easy to make and delicious to eat!
If you like making pasta, you'll love making pizza! Here are some delicious and easy to make pizza recipes - involve the kids and have fun making them!
---

Click to go back to the home page.