How to make bruschetta : a quick and easy Italian appetizer.
There's nothing difficult about how to make bruschetta.

It's a quick and easy Italian finger food recipe that's great for parties and picnics and is always on every restaurant menu as a popular appetizer.
Once you have the basic bread base, you can add virtually any topping you like - which makes it a great choice on a vegetarian dish, too.

We suggest some of our favourite toppings below the basic recipe - but one of the fun things about Italian food is that you can add whatever you want, using food you have in stock.  Be adventurous!

How to make bruschetta - the basics
Bruschetta (pronounced "Broo-skay-ta") is the bread, oil and garlic combination : originating in central Italy but now popular as Italian finger food, starter or snack all over the country - and outside it.
The wonderful taste comes through the combination of very fresh olive oil - Italians will only use the current year's harvest for bruschetta - with freshly picked garlic.
The topping most widely used in Italy is tomatoes ('Bruschetta al pomodoro') but there are lots of variations on this - we suggest some of the most popular below.

Ingredients
✮  1 loaf of Italian bread; if none is available use a French baguette. Stale bread is ideal for this recipe.
✮  Extra virgin olive oil - the fresher, the better.
✮  4 garlic cloves - again, as fresh as you can get.
✮  Sea or rock salt and freshly ground black pepper.

How to make it
✮  Pre-heat the oven to 450ºF., (230ºC.,  gas mark 8).
✮  Slice the bread diagonally to get the maximum possible surface area.  The pieces should be approximately one half inch inch thick (1.5 centimetres).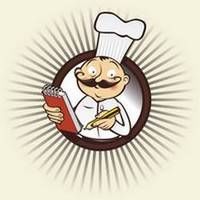 ✮  Traditionally the garlic would be rubbed on each piece of bread to flavour it.
✮  However, if you don't want to have the smell on your hands for days, we suggest finely chopping the garlic and in a small bowl, combining it with about 120 mls (0.25 cup) olive oil.
✮  Brush one side of the bread with the olive oil mix and place each slice on a baking sheet, olive oil side facing up.
✮  Place the baking tray on the top shelf of the pre-heated oven and leave for about five minutes. Watch it, because the bread will burn easily.
✮  Arrange the bread on a serving plate, olive oil side facing up.
✮  Now just add whichever topping takes your fancy!

How to make bruschetta topping :
the basic recipe
✮  8 firm tomatoes
✮  3 garlic cloves, finely chopped

✮  Fresh basil and oregano, chopped.
✮  Dice the tomatoes and put into a bowl.
✮  Add the chopped basil, oregano, salt and pepper and mix together well with a spoon.
✮  Pile on top of your bruschetta slices.

And that's it - perfect Italian finger food in minutes!
How to make bruschetta topping  : variations
You can put more or less whatever you like on top of bruschetta. If you're looking for an Italian finger food for vegetarians, this makes an ideal dish. 
Some of the more popular toppings are :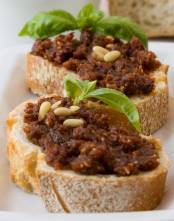 Tomato pesto and pine nut topping - delicious!.

✮  The basic tomato recipe topped with : chopped prosciutto; anchovy; sliced olives; chopped onion;
✮  A slice of mozarella cheese topped by a slice of smoked salmon either on their own or finished with some green salad leaves; 
✮  A slice of mozarella cheese topped by sun-dried tomatoes and capers;
✮  Roasted red pepper and melted mozarella;
✮  Sun-dried tomatoes topped by shavings of parmesan cheese;
✮  Mushrooms lightly fried with garlic  in olive oil and topped with parmesan shavings;
✮  Tomato pesto and pine nuts.

Buon Appetito!


---
If you're preparing Italian finger food, have a look at this classic Italian pizza - cook a couple and cut into pieces for an ideal buffet dish.
If you like pasta and you like salad, try this Italian pasta salad recipe - it makes a spectacular centrepiece for any table.
---
If you love Italian bread, have a look at our other
easy to make bread recipes  - you'll love them too!


---

Click to go back to the home page.