Italian dog breed rescue : how to find a Spinone Italiano
Looking for an Italian dog breed as a family pet? The Spinone is perfect!
But before you start looking for Spinone puppies why not think about adopting a rescue dog? We've always done it - so here are our top tips for a successful re-homing, including links to adoption websites.
Italian dog breed rescue : how to start
Do your homework first. Don't get this dog because he looks cute (which he does, but that's not the point!). Look at our information, or go direct to the dog adoption websites for more - see links further down this page.
Consider the characteristics of the Spinone Italiano as a breed and whether it would fit into your family.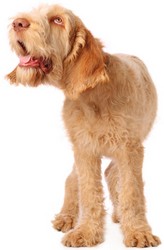 Other questions to ask yourself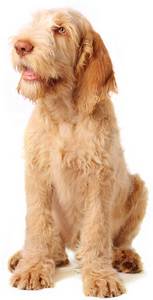 Do you want a puppy? Very few Italian Spinone puppies come up for adoption. If you want a pup you would probably be better buying from a reputable breeder.
Can you cope with potential re-homing problems? You may have no trouble at all, but your new Spinone may have initial difficulties with separation from previous owners - anxious panting, not eating, and following you around everywhere being three of the most common.
Would mess matter to you? The Spin's characteristic beard picks up water, food, sand, soil - you name it! If you have cream furnishings and don't want them turned brown - think
again!
Do you have a lovely manicured lawn? Not all Spins dig, but some do. Be prepared.

Where to find Spinone rescue dog adoption websites
This is a relatively newly introduced Italian dog breed in many countries, and dog adoption websites for the Spinone are really limited to the U.K. and North America. In other countries, you will need to find a reputable breeder who may well know of dogs needing re-homing.

What Italian dog breed adoption websites will tell you
You will need to fill out a straightforward written form giving basic information together with details of where you live, what you circumstances are (e.g. working or at home), whether you have an outside area, and so on.
Once you have returned those forms you will be contacted and a home visit arranged to check that your circumstances are right for a Spinone. During the visit the person checking will also get an idea of your family so that the right match can be made between you and your Spinone rescue dog.
You will find the whole process friendly and low-key. There is a constant emphasis on the welfare of the dog which is important to remember. There may seem a lot of questions, but they're necessary to make sure that you and your rescue dog are both happy.

Happily ever after?
All that work will eventually pay off if you do it thoroughly.  You will be paired with a dog that suits your family, your lifestyle and your personality. 
Your new Spinone rescue dog will have a home with a family who want him and will offer him a comfortable place to be for many years to come.

It's a "win - win" situation and we can't recommend it highly enough.
To see just how highly, have a read here of our Spinone rescue dog - Ellie's story.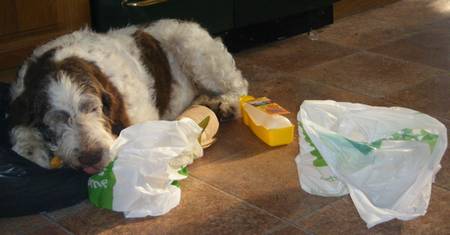 Ellie helps unpack shopping!
Share your Spinone Italiano pictures here!
All you need to know about the Spinone Italiano
---

Click to go back to the home page.