Italian for Dummies.
Italian for Dummies :
a reference for the rest of us.

.


The 'Dummies' books are now iconic, and Italian for Dummies is no exception. It's a fun, easily recognisable system about how to learn the Italian language.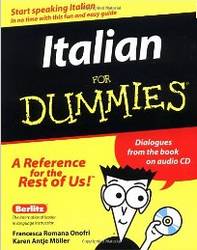 This book is a joint enterprise between the 'Dummies' series and Berlitz, one of the most famous language instruction comapnies - so it's bound to be a success.



It follows all the other 'Dummies' formats with easy instructions, tips, techniques and areas to be careful of, and combines that with all you would expect to find in a 'normal' language book.



Covering things like spelling, basic grammar and numbers it then branches out into all the areas you want to see in a language book : meeting people, eating out. shopping, travelling - even nights on the town!



But we find that hearing the language spoken is as important as seeing it written - maybe even more so - and Italian for Dummies covers this too.



It comes complete with audio disc which allows you to follow the conversational pieces by ear at the same time you follow them in writing. This gives you a great perspective on how the language is spoken as well as written.



Who will this book suit?

We have it (we have them all!) and because we began to learn this amazing language some time ago we found it a little basic for our needs. It would suit anyone who is right at the start of learning the language. It's a little too simple for anyone who can hold their own in day to day situations.



Because it doesn't go through the normal conversational format, it's not ideal for people who want to pick up some basic phrases before a 'one-off' trip to Italy. In that case you'd be better with one of the traditional phrase books.



But as a starter book for anyone who wants the basics of how to learn the Italian language, it's hard to beat. In those circumstances it's fun, informative and easy to use.




---
Unfortunately, this book isn't yet available in a
Kindle
edition. However, the Kindle edition of
'Italian Now!'
is a similarly basic workbook which would be a good alternative.
---

If you want to take it a step further, a book about
Italian verbs is a must. Find our review at this link.




Use this link if you want to learn some Italian love phrases.

More reviews of books about how to learn the Italian language.





Italian for Dummies to our home page about Italian culture.