Italian verbs.
Italian verb drills : Paola Nanni.

.


Learning any language involves a certain amount of pure study and repetition. If you're of a "certain age" and trying to learn the Italian language in the way schools used to teach, this book of verbs will be right up your street.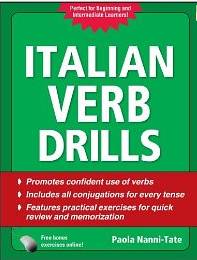 We love this book - but then we are of a certain age!



It's very straightforward - does just what it says in the title. It teaches everything there is to know about Italian verbs. Tenses, conjugations, irregular and reflexive verbs, how to use them - it's all here.



We've found in our night-school classes that there's a lot of emphasis on conversation - which is great up to a point. But if you want to take the language seriously, learning verbs is a must.



This book is not all straight learning though. There are some exercises to make sure you're picking it up as you should be and free online exercises to test your progress once you've finished.



Who will this book suit?

Those who are prepared to sit down for thirty minutes (or more) a day and study, those who are prepared to repeat and memorise, those who want to be able to converse in more than just the present tense.



We've found it an excellent book which has given us far more confidence in speaking this amazing language every day.




---
Unfortunately, this book isn't yet available in a
Kindle
edition - which is a shame, because a Kindle allows you to learn in odd spare moments during the day.

However, the Kindle edition of the Italian Verb Workbook
is equally good, and has more exercises (including crossword puzzles) as an aid to learning.
If you like using your Kindle, this is the book for learning Italian verbs that we'd suggest.
---
If you want a more imaginative book about the language,
we suggest Dianne Hales' 'La Bella Lingua'
- see our review by following this link.




And use this link for some basic Italian phrases.

Return to have a look at more reviews of books about
how to learn the Italian language.





Italian verbs to our home page about Italy's culture.