Italian wedding customs :
your questions
Want to include Italian wedding customs and traditions in your own marriage ceremony but not sure how?

Here's where to ask your questions and get honest, reliable answers.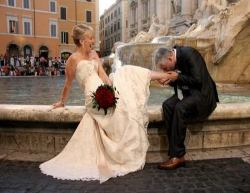 Cath, Mike and the Trevi fountain.
When we were married in Italy, we wanted to incorporate as many Italian wedding traditions as we could into our ceremony.
So we did our homework. We spent ages researching the history of wedding traditions - not just Italian but global customs and traditions - and discovered that most of them came from ancient Roman weddings.
We learned how modern Italian weddings are conducted, and what wedding customs are used every day.
We talked to Italian friends of ours including a wedding planner in Italy, to make sure we'd got it right.  And finally, we had an unforgettable wedding day.

How to share our knowledge of Italian wedding traditions?
And then we realised that lots of people want to get married in Italy, but not everyone can. There are lots of people around the world who have Italian roots and want to blend some of that Italian genealogy into their wedding. Maybe you're one of them.
So we wrote some web pages about Italian engagement culture traditions through to ancient Roman food and how it affects Italian wedding receptions.
But we know people still have questions. So this is your chance to have all your questions about Italian wedding customs answered. If we don't know the answer immediately, we have contacts in Italy who will!
Just go to this page and fill out the form.  Simple!

---

Click to go back to the home page.