How to keep cool in the summer weather in Rome, Italy - continued.

Here are the final five of our ten tips on keeping cool in the summer.
As the Italian climate gets hotter each year, we look at what to do in Rome to avoid sun stroke.

How to Keep Cool Tip 6  :  Buy a parasol
An elegant parasol
at the Colosseum.
Walking or sitting anywhere in Rome's summer climate even on a cloudy day puts you in danger of getting sun stroke as the sun hits the back of your neck. Men often choose to wear a hat but women tend not to. How to keep cool without one can be a problem.
Ladies - parasols are the answer. Although they probably won't last the journey home, they're light enough to carry easily and will keep off the worst of the sun's rays leaving you free to walk about in safety.
If you travel on an open top bus or visit any of the many Rome tourist attractions, you'll find street vendors selling these brightly-coloured parasols. They cost a couple of Euros and they're well worth it.

How to Keep Cool Tip 7  :  Visit Rome's beach!
Rome's beach.
There are many beaches in Italy but the fact that Rome has a beach is not well-known. 
The weather in Rome, Italy, is so hot in the summer that the City of Rome decided to follow the example of Paris and create an urban beach, available to residents and tourists alike, as their answer to how to keep cool in the city.
It's not the greatest of beaches, but it's a place to cool off if your hotel doesn't have a pool of its own.
So Rome for kids and adults alike during July and August can include a day at the 'seaside'. This page about Rome's beach has details of opening times and what you can expect to find there.
Or, if you're traveling with pets and want to go further afield, have a look at the best Italian beaches for dogs  - your pooch will thank you!

How to Keep Cool Tip 8  :  Visit Rome's buildings
There are so many things to do in Rome that it can be difficult to choose which to see, especially if you're only there for a short time.
But if you're staying in the hot summer climate you might want to think about spending some time in places with air conditioning - particularly if your hotel doesn't have it.
Most of the facts about Rome for tourists will lead you to the must-see outdoor spaces like the Trevi Fountain, the Roman Forum and the Colosseum which are hot-houses in the summer. If you alternate your days so that some time is spent in air-conditioned places, you and your family will be much happier.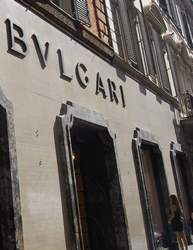 Shopping in the
Via Condotti's exclusive shops
will keep you cool.

The obvious places to start are churches - which are naturally cool because of their stone interiors and have the added advantage of providing pews to rest weary feet.  Museums and restaurants are also good.
But don't forget shops in Rome, particularly if you're traveling with kids. Child-friendly shops in Rome can be excellent places both to cool off and to keep kids who are bored with ancient ruins entertained.
If you head down Via Condotti near the Spanish Steps you'll find some of the most famous shops in the world, all ensuring their customers spend as much time as possible there by turning the air conditioning way up high. 
Gucci, Bulgari, Valentino, Dolce and Gabanna - the list is endless, and amazing.  So you will be able to keep cool and marvel at the outrageously expensive goods all at the same time.

How to Keep Cool Tip 9  : Take an open top bus tour or a boat ride
Open top bus tours and boat rides down the Tiber River sometimes don't get a very good press, mostly because they often can't get close to Rome's tourist attractions.  So face it - you may have to walk a couple of hundred yards to see the Trevi Fountain.  But Rome's geography is such that these are brilliant ways of getting an overview of what the city has to offer.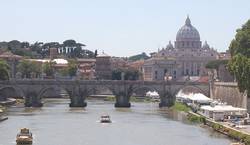 Pleasure boats on the river Tiber, Rome.

We have used them when planning what to do in Rome with older people and children who would find walking round the city in the heat of the summer impossible.
For kids in Rome traveling on an open top bus or a boat is a treat whether or not they see any sites; for the elderly it's a great way of allowing them to feel that they're not holding the family back, whilst at the same time giving them permission to sit down.
And for fashion conscious young adults, it's a great way of getting a tan while seeing the city, as Mike's daughter Faith once proved!  
But be careful.  The air on your face will be a welcome relief but don't let it fool you into thinking it's cool - that sun can still have a devastating effect, so cover up and use a good sun screen.

How to Keep Cool Tip 10 : 'Fare una siesta'
Start before you even get there - plan in advance. Choose your accommodation in Rome carefully - make sure it has air conditioning in the bedrooms. Most hotels in the Eternal City do now have air conditioning knowing, as Italian hoteliers do, how unbearably hot the summer weather can be.
Then, keep an eye on the weather forecast in Rome and make sure you schedule your time accordingly. Don't, whatever you do, try to do it all at once in the searing heat - you won't be able to and it will spoil your time in the city.
It's the same in any language, so when in Rome do as the Romans do - take a siesta.

Join in the early evening 'passeggiata' at the Spanish Steps.
Get up early and visit sites before sun is too hot;  as a bonus you will beat the main rush of tourists.
At around mid-day, stop walking and eat a light lunch either in an air-conditioned restaurant or outside under the cover of umbrellas while you watch Italian life unfold before you.
And then, instead of rushing off to the next must-see monument, head back to your (hopefully air conditioned) hotel and have a rest.  You don't necessarily have to sleep. Read, listen to music, watch T.V. - whatever relaxes you.
In the early evening, once the heat of the sun has died, have a lovely cool shower, dress up, and head down to the Via Condotti and the Spanish Steps for an early evening 'passeggiata' (so much more than just a 'stroll'!) and a meal.

Not just how to keep cool in Rome,
but how to be cool in Rome!


Here's the first of our tips about
how to keep cool in Rome
---
If you liked this page, please let others know by sharing. Just click any of these buttons - it only takes a second!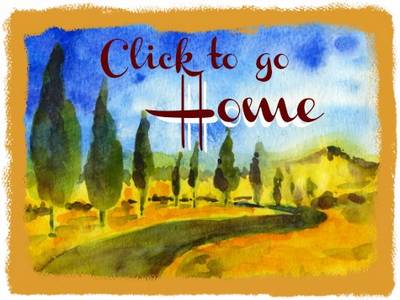 Ads by Google.