Valentine's day traditions in Liguria, Italy
Take inspiration from Italian culture and Valentine's day traditions in Camogli.
If you're looking for creative Valentine ideas - where to spend it, party themes, gift ideas - this is one of Italy's most romantic spots.

Camogli - a romantic town in Liguria, Italy
Romantic Camogli town, best approached from the sea.
The sleepy town of Camogli in Liguria, Italy, is a romantic place at any time of year. Originally a medieval fishing village and still proud of its historical centre, it's situated in the coastal region of Liguria between the lazy olive and mimosa groves of the Golfo Paradiso to the west, and the elegant and better-known resorts of Portofino and Santa Margherita to the east.

Although there are a couple of tourist boats, the old harbour is still mainly a traditional fishing port. Its tall, closely-packed houses are painted in colourful pastel hues, originally so fishermen would be able to use their home as a point of reference when returning from sea. 
On the second Sunday in May each year, the town celebrates its seafaring traditions with a 'fish fair' - which includes cooking locally caught fish in what's said to be the largest frying pan in the world. 
And in February, the best Valentine's day traditions in the whole of Italy take place here.

Valentine's day traditions in Camogli
Although Valentine's day history began in Italy, Italians as a whole don't celebrate it in the same way as in the United States or United Kingdom, for example.  It's much less commercialised and much more to do with Italian culture traditions.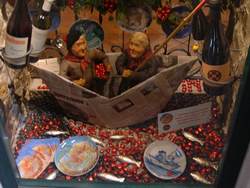 Shop windows reflect true local Italian tradition and culture.
'Innamorati a Camogli' (Lovers in Camogli) takes place every year in the week leading up to St Valentine's day, ending on the day itself. No-one really knows its origins, and no-one really cares.  All anyone knows is that it's a great place to take a special person to celebrate Valentine's day traditions in Italy.

What happens?
The whole town and everything in it becomes dedicated to lovers. All the organised events are entered into with great energy and passion by locals and tourists alike. They include  :

Love hearts : put your own and your Valentine's names on a red card heart and tie them to the fishing nets on the harbour wall.   Those which withstand the elements to the end of the week are those relationships which will withstand the test of time!
Valentine's market  :  Italian culture and traditions wouldn't be the same without markets!  This is a special street market on the promenade which sells anything and everything related to Valentine's day.  Sweets, cakes, pastries, jewellery, leather goods and all manner of wooden trinkets.<br>

Shop window dressing : Most of the local shops dress their windows for Valentine's day and they're all judged by the local dignitaries.  The windows tend to be typically Italian - they use creative Valentine ideas with local products rather than the more extreme commercialism of other countries.
Poetry competition : with Italy's rich history of great literature it's not surprising poetry enters into Valentine's day traditions in both Verona, Italy and Camogli. Anyone over the age of seventeen can enter this, although the entries obviously must be in Italian.   There are usually hundreds of entries which are judged by a committee from the Town Hall.  The best twenty are posted along the waterfront for public viewing and later published in a memento booklet.

The winner of the 2009 art competition becomes the official emblem for 2010.
Art competition : this is a serious competition. In one of the older Camogli Valentine's day traditions artists of all ages (over seventeen) come  up with creative Valentine ideas to make a design representing Camogli at Valentine's day which are displayed and judged  The winner becomes the official symbol for the following year's celebrations and is made into a commemorative plaque.
Cocktail making : Bars compete to make the best new cocktails with a romantic theme.
Valentine's recipes : All the local restaurants serve a special Valentine's day menu, which vary in price from around €60 to €120 for two people.  Most will include a bottle of sparkling wine, and the more expensive will present you with the 'Innamorati a Camogli' commemorative plate for the year.
Chocolate desserts : Italy is well known for its chocolate and it's a well known fact that Italian Easter egg traditions are stronger here even than in the U.S. or U.K.
But Camogli has its own signature dessert, 'camogliesi',  puff pastry with a mixture of chocolate and rum filling. Although it's sold all year round in the town, most restaurants sell mega-amounts of it during the Valentine's day celebrations.

How can you make Valentine's day traditions from Camogli fit with your own Valentine's celebrations?

Go there! It's a great time to visit Liguria, Italy which, because it's so well known for places like Portofino and Cinque Terre, fills up with tourists from late spring through to early autumn. In February, the weather can be warm and the streets will be full of Italian people. Have a look at Camogli's webcam to see what the weather today is like.


Use Camogli's Valentine's day traditions to make your own gifts. If you're struggling for money this Valentine's day don't worry. A great lesson from Camogli  is that the best Valentine's gifts are often those we make ourselves, with love and passion. They mean more, and they stay in the heart for longer.
This page about Italian-themed homemade Valentine gifts based on Italian culture and traditions, including Camogli's, will help you think of creative Valentine ideas to show your love this Valentine's day.
And if you want to make Valentine's really special have a look at some Italian love phrases for you to use.


Have your own cocktail party! Get guests to bring their creative Valentine's ideas - and their own ingredients - to make the most imaginative romantic cocktails. They don't have to be alcoholic - juices make great cocktails.


Make your own Italian chocolate biscotti - they may not have the same taste as the rum-based 'camogliesi' but they're still delicious!
Sunset from Camogli harbour - could anything be more romantic?
---
More Valentine's day facts from Italy
---

Click to go back to the home page.