Valentine's day : creative ideas from Verona, Italy
The history of Verona, Italy, provides some great ideas for Valentine's day - creative ideas for parties, and last minute Valentine gifts to make or buy.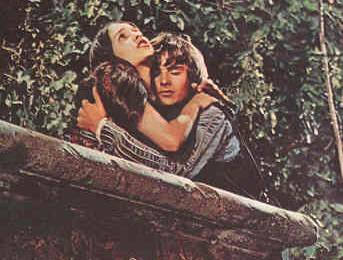 The balcony scene takes place in Verona.
'Romeo and Juliet', 1968.
Courtesy of Paramount Pictures.
Valentine's day : creative ideas from traditions in Verona
The history of Verona, Italy, is tied up inextricably with love and romance.  Celebrated as one of the great world heritage sites, Shakespeare made Verona famous when he chose to set his most well-known of love plays, 'Romeo and Juliet', there - and the city still trades on that connection.
So it's not surprising that, like Valentine's day traditions in Liguria, Italy Verona also has special celebrations on Valentine's day. Creative ideas of how to celebrate love come naturally to this city. 
Read on to discover not only what goes on if you're thinking  of visiting Verona in February, but what we can take from it for our own Valentine's parties or last minute homemade Valentine gifts from Italy.

Valentine's day - creative ideas : what happens in Verona?
Although Valentine's day history began in Italy, Italians as a whole don't celebrate it in the same way as in the United States or United Kingdom, for example. It's much less commercialised and much more to do with Italian culture traditions.
'Verona in Love' ('Un Cuore da Scoprire') takes place on 13th and 14th February every year. It's a tradition stemming from the links between the town and Shakespeare's play of star-crossed lovers which was set in Verona.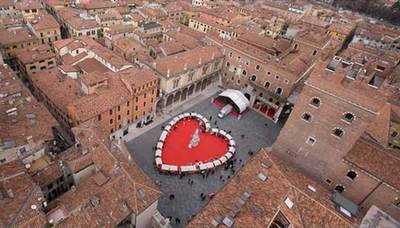 Verona's Valentine's market, from the belltower.


Valentine's market :  the Piazza dei Signori is Verona's main square and the place where most of the celebrations take place. The wonderful Valentine's market is set up here;  the stalls are set out in the shape of a heart - it's known locally as the "heart of Verona".
Everything you could wish to find in a romantic market is here : locally produced food and drink (including the most delicious cheeses), heart-shaped decorations, cushions, paintings, ceramics - the list is endless.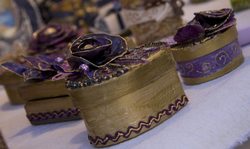 Free chocolate tasting :  Italian chocolate is smooth and rich.  In the main square you'll find stalls offering free chocolate and wine tasting - in the hopes, obviously, that you'll be so bowled over you'll buy some.  Which, if you're anything like us, you will! 
If you know anything about Italian Italian Easter egg tradition you'll know Italy's chocolates are always beautifully wrapped - and tastes at least as good as it looks.
Climb the belltower : the best place to get a real impression of the heart-shaped market is the Torre dei Lamberti which overlooks the square.  For the Valentine's festival there's always a "two for the price of one" offer.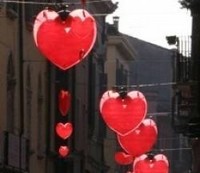 Light up the streets : if you're in Verona, Italy, on Valentine's day, make sure you have a stroll down Via Mazzini. 
This street, and others in the neighbourhood, are lit by dozens of gorgeous red heart-shaped lights. It's a spectacular sight.
Free music and dancing : There's a large red stage placed at the top of the 'heart' of market stalls in the Piazza where Italian entertainers play a variety of music from modern to jazz, all day and most of the night of the 'festa'. 
Watch out for posters locally with details and make sure you get there early - the square is always crowded. A great atmosphere for the whole family.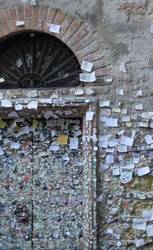 Love letters : Given that background history of Verona, Giulietta's (Juliet's) house is naturally one of the focal points of the celebrations. The house itself is free to visit on the two days of the festa, and the front door is completely covered in love letters which on 14th are taken down and judged. 
Love letter competition : At 11.30 a.m. on 14th February at the 'Casa Giulietta', a prize is awarded for the best love letter. It's a highly sought-after award and celebrating the prize is a time-honoured local tradition.
An archive of the best love letters from decades of celebrations is made available at Giulietta's house (free entrance). They're an amazing testament to love through the ages and well worth going to see.
They may even give you some inspiration for your own Italian-themed homemade Valentine gifts.
Engagements : Traditionally, Valentine's day is the day in Italy when lovers become engaged. Italian engagement ring tradition means that many lovers in Verona 'plight their troth' on 14th February by going to Giulietta's house and proposing on the famous balcony. It's then traditional to touch the statue of Juliet in the courtyard - it's supposed to ensure a long-standing, loving relationship.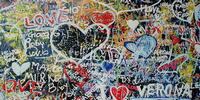 Graffiti : graffiti may be a tradition left over from ancient Roman daily life but the Valentine's fair is the only time of year when it's actively encouraged in Verona. Some is highly artistic, some of it isn't, all of it is straight from the heart.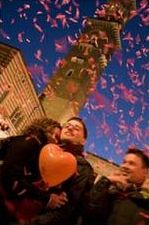 Love hearts : the town releases thousands of red heart-shapes from the belltower to mark the end of the Valentine's day celebrations in Verona, Italy. 
The town carries on for the rest of the year, though, being a real attraction for its history, its romance, and its huge Arena which is the venue for the famous Verona Opera season and for a variety of rock concerts.
So, while different parts of Italy are famous for their Valentine's day facts, Verona is famous for its romance all year round.

How can you make Valentine's day traditions from Verona fit with your own Valentine's celebrations?

Get engaged! Even if you can't make it to Juliet's balcony in Verona, Italy, take advantage of the history of Verona and Italian engagement ring tradition, and pledge your love for each other on February 14th to ensure a romantic, long-lasting relationship.


Write a letter. This is one of the simplest but most effective Italian-themed homemade Valentine gifts you could possibly give. Personal, romantic, more meaningful than any shop-bought goods - you can even use our Italian love phrases to add that extra bit of Italian romance.  It's also a life-saver if you've left things a little late and you're looking for last minute Valentine gifts.
It doesn't take long, but it's the best Valentine's day creative ideas you could have.


Buy chocolate! There's just nothing in the world as good as Italian chocolate. It's wrapped lavishly for Valentine's day and available in shops and markets everywhere.
But if it's just not realistic to get to Italy to buy some, have a look at our Italian e-shop for the best chocolates created by some of the most talented chocolatiers in the world.


Make chocolate biscotti.  If you can't afford to buy chocolate - or if you've left it too late - try this easy recipe for Italian chocolate biscotti. Its advantage is that it uses ingredients you're likely to have in your store cupboard - and it tastes delicious.


Combine Valentine's day creative ideas from Verona with Valentine's day traditions in Liguria, Italy for a truly memorable day.


Use graffiti : we're not suggesting you draw on walls! But graffiti art can be amazing, and it's not as scary to do as the more formal art forms.  
How about having a graffiti party?  Invite friends to design the most imaginative Valentine's graffiti and offer a prize for the best - perhaps some homemade Italian chocolate biscotti. Have a look at our suggestions for homemade Valentine gifts with an Italian theme for more ideas about last minute Valentine gifts.


Go there! It's a great time to visit Verona, Italy which because of its opera season and its romantic links with Shakespeare fills up with tourists from late spring through to early autumn. In February the weather can be warm and the streets will be full of Italian people.
You'll love it!
---
More Valentine's day facts from Italy
Need to find some last minute Italian Valentine gifts?
Our e-shop has lots of great ideas
---

Click to go back to the home page.