How to make chocolate pancakes - the Italian way!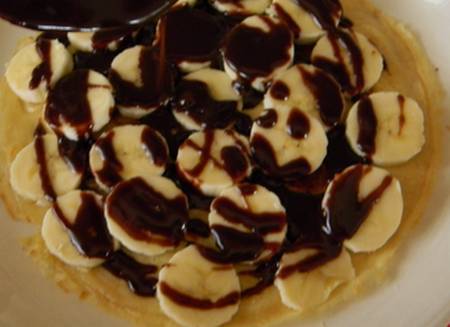 Another of our delicious easy Italian dessert recipes : chocolate pancakes are delicious at any time of year!

Easy Italian dessert recipes : but how easy?
Very!
The basic pancake recipe from scratch has just three ingredients and takes no more than five minutes to make - although it should 'rest' for twenty minutes or so before you cook it.
This particular sauce is the easiest filling to make, takes about five minutes maximum and, combined with sliced bananas, is one of the most delicious of our easy Italian dessert recipes yet looks and tastes wonderful.
Try it and see!

How to make chocolate pancakes : ingredients
✱  Enough of our pancake batter recipe from scratch to feed however many people you have!
For the filling, per person :
✱  1 banana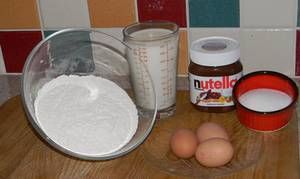 ✱  1 tablespoon melted chocolate or choc spread - we use Nutella for speed but you can equally use a block of chocolate which you will need to melt in a bowl placed on top of a pan of boiling water).
✱  2 tablespoons skimmed milk
✱  1 teaspoon crushed nuts to sprinkle (if liked)
✱  1 teaspoon icing sugar to sprinkle (if liked)

How to make

✱  Make the pancake batter and leave to stand while making the sauce.
✱  Put the chocolate spread and milk together into a saucepan on a very low heat.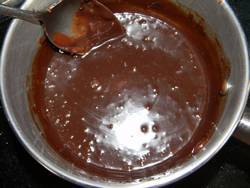 ✱  Warm gently until the mixture melts together, stirring the milk in as it warms.
✱  If you like, you can just use the sauce as a dressing on the pancake.  However, we find that very rich and like to add some fruit.
✱  Cut the banana into thin slices and layer onto the cooked batter.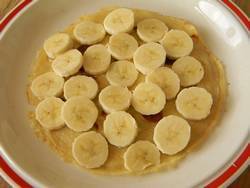 ✱  Drizzle the sauce on top and, if you like, sprinkle on the nuts and icing sugar.
✱  Eat this as a flat pancake - if you try to fold it, the filling will cause the pancake to break.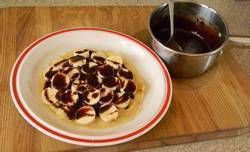 BUON APPETITO!

---
Looking for another traditional Italian dessert? Try our delicious dessert pizza recipe - it's simply gorgeous!
Or try this yummy quick Tiramisu recipe for a rich, chocolatey treat.
---
More tasty Italian dessert recipes for you to try

---

Click to go back to the home page.