A dessert pizza recipe : how to get fruit into your kids without having to try!
One of our favourite easy Italian sweet recipes.

This dessert pizza recipe looks spectacular as a centrepiece at parties - and kids love it!  It is so incredibly simple to make too - the perfect Italian dessert recipe.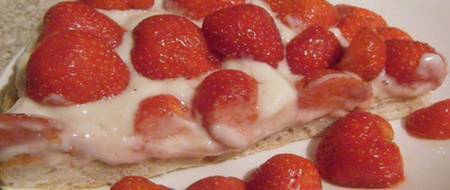 Italian dessert pizza recipe : ingredients
✱  One sweet dough base - have a look at our quick method - the
bread machine dough recipe.
✱  Or if you want to do it all by hand, here's our authentic Italian easy pizza dough recipe.
For the topping
✱  10.5 ounces (600 grammes) cream cheese
✱  1 cup white sugar
✱  4 teaspoons vanilla extract
✱  Fruit of your choice for the topping. Strawberries look spectacular when in season; we also use blackberries, apple slices and peaches.

Italian dessert pizza recipe : how to make it
✱  Make a sweet dough and bake it separately in an oven preheated to 180º C (350º F, gas mark 4) for about 15 minutes, or until slightly risen and lightly browned. Set aside to cool.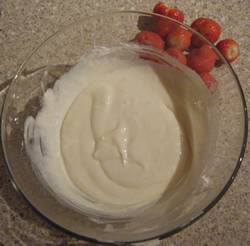 ✱  Beat the cream cheese together with the sugar and vanilla until light. It will seem a little sloppy - chill in the refrigerator and it will thicken.
✱  Leave for at least thirty minutes, or until you're ready to use it.
✱  Do not add this to the crust until immediately before you're ready to serve it, otherwise warmth will make the base very soggy!
✱  Once you're ready, make sure the pizza base is completely cold, otherwise the filling will become too sloppy.
✱  Now, just spread the cheese mixture on the cooled crust.
✱  Slice whichever fruit you're using and arrange on top of the filling.
✱  This will keep for thirty minutes or so in a refigerator until you're ready for it, but it's firmer if served immediately.


Top Tip :
If you have a little extra time,  put the cooked base with the filling spread on top into your freezer for about an hour, then remove and cut into portions before spreading the fruit on top.
It helps to keep it firm and makes it easier to cut than when the fruit is on it already. 
Making small, individual pizzas also works although it can be much more fiddly.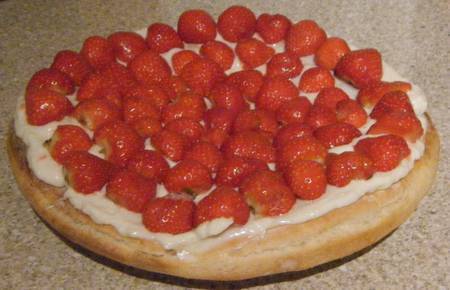 BUON APPETITO!
---
More Recipes!
If you love rich desserts from Italy, try making our chocolate biscotti - one of the best Italian cookie recipes.

If you're thinking of a pizza party, have a look at more of our gorgeous, authentic Italian pizza recipes  - your family will love them and they're so easy to make too!
This rich sweet pizza is often eaten as part of Christmas celebrations.  If you want to recreate your own Christmas in Italy, have a look at another of the most famous Italian Christmas traditions - the nativity crib.
---
Have a look at some more of our scrummily
delicious Italian dessert recipes.
---

Click to go back to the home page.