One of the best easy Italian dessert recipes we know -
'Semiffredo all'Amaretto'

Combine this scrumptious Italian cake recipe with pizza or pasta to create the ideal Italian meal.
Variations on recipe
As well as its delicious easy Italian dessert recipes, Italy is well known for the most gorgeous, high quality nougat - 'Torrone' in Italian. Its strong flavour combined with the taste of Amaretto make this a really delicious but very strongly-flavoured Italian cake recipe.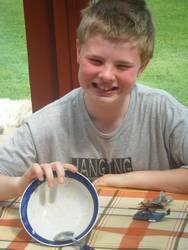 Harry has a sweet tooth -
he wanted more!
Unless you live in Italy where nougat is freely available, you may have to buy it from an Italian or Spanish deli.
It's more generally available around Christmas, so this is a good option if you want Italian Christmas dessert recipes.
But if you'd rather tone the flavour down, leave out the liqueur and instead of nougat, use crushed meringue.
It makes the finished product very sweet and a little sloppy, but those with a sweet tooth will adore it!

Ingredients
✮  4 large eggs, separated

✮  1 vanilla pod or vanilla extract - not essence
✮  50 grammes (1.5 oz / one quarter cup) caster sugar
✮  350 grammes (12 oz  / 1.5 cups) Nougat (almond if possible)
✮  3 tablespoons honey
✮  5 tablespoons Amaretto liqueur
✮  10 Amaretto biscuits
✮  500 mls (2 cups) double cream

How to make it
✮  Split the vanilla pod down the middle and scrape the seeds out, adding them to the egg yolks in a large bowl.

✮  Add the caster sugar and whisk until the yolks become pale - this will take about five minutes.
✮  In a separate bowl, whisk the cream until it thickens slightly and stands in soft peaks.
✮  Place the nougat in a plastic bag and hit it with a rolling pin to break it into small pieces.
✮  Put the biscuits into another bag and crush them.
✮  Gently fold the cream into the egg mixture.
✮  Now add the nougat, biscuits, honey and liqueur and mix well.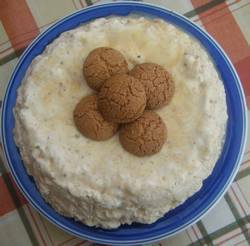 ✮  In a separate bowl whisk the egg whites until they stand up in peaks.
✮  Fold the egg whites very gently into the rest of the mixture until it's all combined.
✮  Line a 1.5 litre cake tin or large loaf tin with cling film and spoon the mixture into it.
✮  Cover with clingfilm, and put into the freezer for at least five hours.
✮  When ready to eat, turn the cake upside down onto a serving plate.
✮  Cut into slices - it should still be sloppy in the middle which is what gives it the 'Semifreddo' (half-frozen) name.
✮  Eat with a cup of steaming espresso and one or two Amaretto biscuits.

Buon Appetito!
Ever tried 'Saltimocca'? It's so delicious! See one of our nost popular Italian cooking recipes here.
Want more delicious classic Italian desserts? Try our quick Italian cake recipe - Tiramisu.
---
More easy Italian dessert recipes
---

Click to go back to the home page.