How to make gnocchi - an authentic Italian recipe.
Don't be frightened of learning how to make gnocchi!
Our gnocchi recipe is easy to follow - once you've done it you'll want to try our other quick and simple pizza and pasta recipes too!


Is this gnocchi recipe difficult to make?
No!
For some reason many people are wary of trying to learn how to make gnocchi. There's really nothing to it - they are just potato dumplings and can be made within half an hour.
The original gnocchi recipe was designed to be a cheap and filling meal, and they can be a bit heavy on the stomach! Avoid overdoing the amounts.
This recipe is plenty for two people as a main course or four as a starter.  We've included a basic sauce to go with it.

Ingredients
✮  300 grammes (14 ounces / 1.75 cups) floury potatoes
✮  100 grammes (3.5 ounces / 0.5 cup) butter
✮  100 grammes (3.5 ounces / 0.5 cup)  plain flour
✮  2 courgettes (Zucchini)
✮  1 tablespoon sage
✮  Parmesan cheese to taste
✮  Salt and pepper

How to make gnocchi - the basic recipe
✮  Peel the potatoes, boil for about 25 minutes until they are soft.
✮  Drain, leave to cool slightly, then mash.
✮  While still warm,  mix the potatoes, egg and flour in a bowl.
✮  Use a spoon to mix it all together then, when it starts to combine, keep mixing with your hand.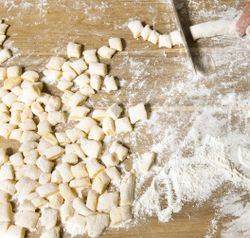 ✮  Work the dough with your hand for about five minutes until the mix is like a soft, slightly sticky dough.
✮  Leave to relax for 20 minutes.
✮  On a floured work surface, break the dough into two and using your hands, roll each part into long sausage about 1.5 cm wide (kids love this bit - get them to help!)
✮  As you roll the dough, make sure to keep it well floured.
✮  Once you have your sausage shape, cut it into bits with a sharp knife.  Your pieces of gnocchi should be about 2 cm long.
✮  Now boil a pan of salted water and add your gnocchi pieces. They will take no more than two minutes to cook - you can tell when they're finished because they will float to the top.

How to make the gnocchi sauce
While you're waiting for the gnocchi recipe to rest, start making your sauce.
✮  Chop the courgettes (Zucchini) into small cubes about 1 cm square.
✮  Melt the butter in a large frying pan and add the courgettes.
✮  Cook gently for about three minutes.
✮  Chop the fresh sage (it tastes much better than dried) into slices and add to the pan.
✮  Cook gently for a couple of minutes, then remove from the heat until the gnocchi is made.

How to finish off this simple gnocchi recipe :
✮  Add the cooked gnocchi to the sauce, toss them together (stirring is more likely to break the gnocchi) and cook for about thirty seconds so that the gnocchi absorbs the flavour of sage.
✮  Add pepper to taste, plate up and sprinkle some grated Parmesan on top.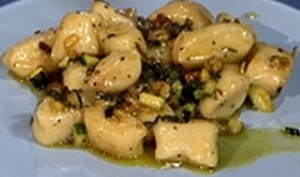 Buon Appetito!


---
Find a great accompaniment to this dish here - a delicious fresh Italian salad.
Now you've mastered gnocchi, why not try your hand at Italian pizza dough? Click on this link to try out one of the greatest Italian food customs of all!
---
More delicious Italian pasta recipes here!
---

Click to go back to the home page.