How to make lasagne - the Italian way!
This easy recipe shows you how to make lasagne in an authentic Italian style.


Not just how to make lasagne - here's how to say "lasagne!"
Non-Italian speakers often mis-pronounce this word as "lasanya." In fact, lasagna is the singular of the word and would mean one sheet of pasta. Lasagne is the correct spelling - pronounced "lasanyeh."
You need to start by either making your own lasagne sheets using one of our easy Italian pasta recipes or buying the dried sheets. We would recommend learning to make your own - fresh pasta makes a huge difference to the taste. If you do, the length should be about 19 cm (6 - 7") for each sheet.

Ingredients
✱  12  sheets of lasagne
✱  500g (1 lb) minced (ground) beef
✱  3 tablespoons olive oil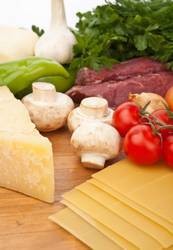 ✱  1 large carrot, peeled and chopped into small cubes
✱  1 courgette (zucchini), chopped into small cubes
✱  1 large onion,  peeled and finely chopped
✱  1 stick celery, finely chopped
✱  1 x 400g (16 oz) can chopped tomatoes
✱  1 tablespoon tomato purée
✱  1 glass of dry Italian red wine
✱  100g (4 oz) freshly grated Parmesan cheese
✱  10 basil leaves
✱  50g (2 oz) salted butter, cold,  cut into 1cm cubes
✱  Salt and pepper to taste

Ingredients for the cheese sauce
✱  100g (4 oz) butter
✱  100g (4 oz) plain flour
✱  1 litre (1.75 pints) cold, full fat milk
✱  ¼ tsp freshly grated (or ground if fresh not available) nutmeg

How to make lasagne : the meat sauce
✱  Before starting to cook, add a splash of olive oil to the meat in a bowl and mix with your fingers. This loosens and separates the meat and saves having to chop it up in the pan.
✱  Heat the remainder of the olive oil in a large frying pan.
✱  Add the onion and fry on a high heat until soft.
✱  Add the celery - this adds crunch to the mixture.
✱  Add the carrots and courgettes.
✱  Keep stirring everything together and cook until soft.
✱  Add the meat and stir everything together again until it starts to colour.
✱  Now add the wine and cook on a fairly high heat so the wine cooks down. The alcohol will evaporate and leave the taste without bitterness.
✱  Finally, add the tomato paste, mix in and then leave to simmer  for about half an hour.
✱  Keep an eye on it - the mix must be loose and not too thick so that the liquid in the meat sauce can help the lasagne sheets to cook.
While the meat is cooking, make the cheese sauce.
You will find a hand whisk attachment helpful at this stage.

How to make lasagne : the cheese sauce
✱  Melt the butter in a large saucepan on a medium heat. Stir in the flour and cook for 1 minute, stirring all the time to stop it sticking and burning.
✱  Gradually whisk in the cold milk, then reduce the heat to a very low light and cook for 10 minutes, whisking constantly so lumps don't form.
✱  Once thickened, stir in half of the Parmesan cheese and the nutmeg.
✱  Season with salt and pepper and set aside to cool slightly.

How to make lasagne : bringing the recipe together
You'll find this method slightly different to normal descriptions of how to make lasagne - it makes the dish more moist and tasy doing it this way and is the method all our Italian friends use.
✱  Using a deep ovenproof dish, spread about a quarter of the cheese sauce on the bottom and cover with sheets of lasagne.
✱  Spread one half of the meat sauce on top, then spread another third of the cheese sauce on top without more lasagne sheets. Sprinkle with some Parmesan cheese and then another layer of lasagne sheets.
✱  Cover with the remaining meat sauce and half of the remaining cheese sauce.
✱  Finish with a final layer of lasagne sheets and the remaining cheese sauce, making sure all the sheets are covered.
✱ Sprinkle the remaining Parmesan cheese over the top with small cubes of butter, and grind black pepper over it all.
✱ Preheat the oven to 180ºC (350ºF, gas mark 4) and cook on the bottom for 30 minutes.
✱  Then place the dish in the middle of the oven, raise the temperature to 200ºC (400ºF, gas mark 6) and continue to cook for a further 15 minutes until golden and crispy all over.
✱  Turn off the oven and leave the lasagne to rest for a few minutes; this will help the lasagne to stick together and it will be much easier to serve.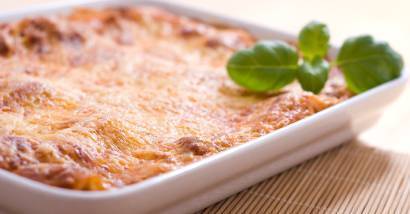 BUON APPETITO!
---
This is a rich dish and needs something light to go with it. A green salad with this simple Italian salad dressing recipe is ideal.
Like this dish but need something sweet to finish off your meal? Have a look at our classic Italian desserts.
---
Here's some more authentic Italian pasta recipes
---

Click to go back to the home page.