Panettone Recipe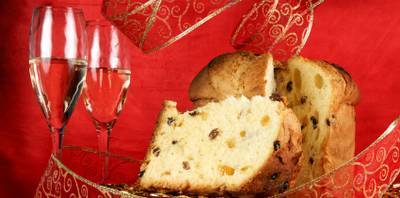 This panettone recipe is a quick and easy way to make this delicious - and famous - Italian dessert.

What is Panettone?
Panettone is a famous Italian dessert eaten largely at Christmas and New Year - it's the Italian version of a Christmas cake. 
It's a sweet, light, egg rich bread-type dough scattered with dried fruit and often eaten with coffee at breakfast, or later in the day with a sweet liqueur such as Amaretto.

Our Panettone recipe
You will find lots of recipes on the internet for panettone, all of them varying a little. Some add nuts and alcohol, some have additional spices.
Although panettone originated in northern Italy it is now more popular in central and southern regions. This recipe is from our home area of Le Marche.
For speed, we make the dough using our Panasonic breadmaker (don't tell our Italian friends who would think that a travesty!) and the ingredients in this recipe are for using a bread machine.

Panettone recipe  :  ingredients
✱  0.5 teaspoon dried yeast
✱  300 grammes (2 cups) strong white bread flour
✱  2 tablespoons sugar
✱  15 grammes (0.5 oz) butter
✱  0.5 teaspoon ground cinammon
✱  0.5 teaspoon ground cardammon
✱  0.5 teaspoon ground nutmeg
✱  1 medium sized egg
✱  The yolk only of a second egg
✱  140 ml (0.5 cup) milk
Add the following to the dried fruit dispenser, or to the machine when it beeps if it doesn't have a dispenser :
✱  Grated rind of one lemon
✱  50 grammes (0.25 cup) mixed (candied) peel
✱  100 grammes (0.5 cup) raisins

Panettone recipe : how to make it
✱  Put all the ingredients except the fruits into the breadmaker and use the 'raisin dough' mode. This will take about 2 hours and 20 minutes.
✱  Add the fruit into the fruit dispenser if your model has one, or add manually when the beeper iindicates it's time.
✱  When the machine has finished, take the dough out and put straight into a greased 18cm (7") cake tin.
✱  Cover and leave in a warm place until it has risen to double its size.
✱  Place in a pre-heated oven at 150ºC (300ºF, gas mark 2) for about 30 minutes.
✱  You'll know it's properly cooked when a skewer or knife pushed into the centre of the cake comes out clean.

BUON APPETITO!
---
If you're looking for other fruity Christmas Italian desserts, try our Christmas pizza recipe.
Want to see some more famous Italian dessert recipes? Here's an easy quick Tiramisu.
---
If you want a creamier taste, try one of our scrummy
Italian dessert recipes
If you'd like to try making your own bread but you think it's too difficult don't worry - our Italian bread recipes are simple to make and delicious to eat!
Panettone recipe to our home page about Italian culture
---

Click to go back to the home page.