A Hotel in the Trastevere district : Residenza Hotel Santa Maria, Rome.
Wondering where to stay in Rome?  This hotel in the Trastevere district is hard to beat.
Our Rome hotel reviews continue with the Residenza Santa Maria - a lovely family hotel in the Trastevere district of the Eternal City.
As with all the hotels we review on this website, we have personal experience of this one - we've stayed there.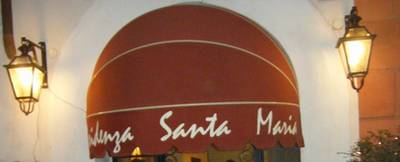 "Clearly one of the best hotels I've ever been to"
(Traveller review)
But as well as our own experience we always include views from other people in our Rome hotel reviews, incorporating comments from places like Trip Advisor and Venere.com.
Unusually, all the Rome hotel reviews relating to the Residenza Santa Maria describe it as either excellent or very good. There isn't a single poor one.
That's how good a hotel it is.
To book this hotel through our trusted partner, Hotels.com, just click on any of the pics.  Or, to look for other similar hotels, go straight to the search box by clicking on this link.
Where is it?
"Staying in the Trastevere is like staying in a small, friendly Italian village."
(Traveller review)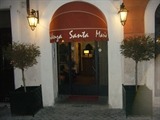 The 'Residenza' Santa Maria in Rome is situated on the western bank of the River Tiber in the heart of one of the best places to visit in Italy - the Trastevere.
The hotel is a few minutes from the famous square of Santa Maria in Trastevere, about twenty minutes' walk from the Vatican and half an hour from the central Rome attractions.
Don't get this hotel mixed up with the 'Hotel Santa Maria' in Rome, also a hotel in the Trastevere district.  This is a larger hotel not far away. 
The Residenza Santa Maria is found at Via dell'Arco di San Calisto.

Hotel in the Trastevere : what's the Residenza Santa Maria in Rome like?
"The Residenza Santa Maria was everything we could have hoped for - a haven of calm and tranquility amidst the hustle and bustle of Rome. Close to everything we wanted to see and most importantly, very clean and well appointed. The staff were very helpful and friendly. Thank you."
(Traveller review)

The Residenza Santa Maria is a lovely building dating from the eighteenth century. It was completely refurbished as recently as 2007.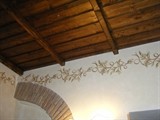 The refurbishment has been beautifully and tastefully done and has left original features such as beamed ceilings and stone arches, combining the old with modern fittings and conveniences.
It's elegant and comfortable - a very pleasant, relaxing place to be.

Residenza Santa Maria, Rome - public rooms
The renovations to the hotel have been done so well that the public rooms reflect a quiet elegance not to be found in many establishments.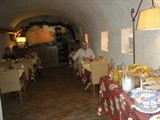 The reception area, small sitting area and breakfast room all have those features and additionally some gorgeous hand painted frescoes and wall decorations. Together, they create a relaxed, friendly atmosphere.
But it's the inner courtyard that really caught our attention. It's a wonderful place to sit amongst the greenery in the heat of Rome's summer climate as it's cool and refreshing, and in autumn or winter in Rome the quality of light there is beautiful.
Sitting there, it's hard to remember you're not far away from the crowds and chaos of Rome.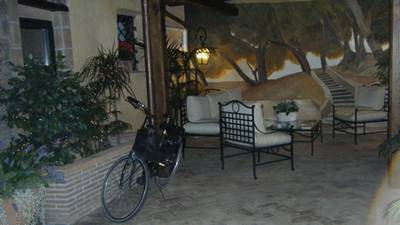 The Residenza Santa Maria's internal courtyard.
Residenza Santa Maria : hotel in the  Trastevere - bedrooms
"Our room was spacious and spotlessly clean. The bed was comfortable, bathroom luxurious with a great shower and plenty of hot water."
(Traveller review)

The bedrooms are so comfortable : well-equipped and large for a Rome hotel. The Santa Maria also has powerful showers that have become something of a legend amongst travellers to Rome.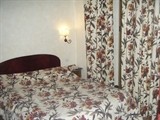 All the rooms have furniture which is in keeping with the hotel - it's wooden, simple but elegant.
The natural theme carries on into the ceilings which have beautiful wooden beams.
The rooms have spacious bathrooms which, very unusually for hotels in Rome, have a bath (tub) as well as a shower - wonderful for relaxing after a hard day's sightseeing.
There's a free safe deposit box, flat-screen satellite television, free internet access in all rooms, air-conditioning (or heating in winter), and nice touches like a hairdryer and mini-bar.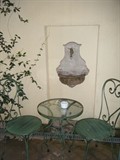 Our room had a little patio area which, it's true, wasn't huge and didn't have a view (as the bedrooms are on the ground floor).
But it was big enough for the two of us and a lovely quiet place to sit in the evenings sipping a glass of wine or reading a book  before hitting the streets to find somewhere to eat.
And the peace and quiet was one of the best things - no street noise, no shouting, no being woken up in the early hours by revellers as we have been in other places in Rome - the rooms are a haven of peace. 
Wonderful.
This is a very small hotel in the Trastevere - there are only six bedrooms. The lesson from that? - book early if you want to stay there!

The best hotel in the Trastevere : facilities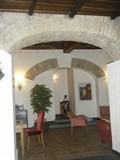 As well as free internet access in all the bedrooms, there's a laptop for public use at a desk in the reception area - ideal if you haven't packed your own laptop.
It's a nice touch and reflects the hotel staff's wish to make their visitors feel at home.
All bedrooms at the Residenza Santa Maria are on the ground floor and therefore easily accessible.  However, the breakfast room is downstairs.
Despite that, the staff are so accommodating that arrangements would be made for disabled visitors as long as prior notice was given.
This is a no-smoking hotel, again not usual in Rome where many hotels have some rooms still delegated for smokers.

Hotel Residenza Santa Maria, Rome - staff
"Everything seemed too good to be true. The staff were so friendly and helpful and really went above and beyond ... We'll be back for sure and will spread the word to everyone in Toronto!"
(Traveller review)

Read any Rome hotel reviews of the Residenza Santa Maria and you will see reference to the lovely staff group. They're very representative of 'Trasteverini' - the people who come from and live in the Trastevere district.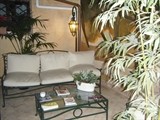 Walk into the reception area for the first time and you'll know instantly that you're welcome.
The staff group as a whole is unfailingly friendly and cheerful. They're never intrusive but always anxious to know you're having a good time and want to do anything they can to help that happen.
We can't really say any better than this review by a single woman traveller  :

"I felt like an honoured guest in a hearty home where I could make my traveling base relaxed and secure."

So if you're wondering where to stay in Rome to make you feel safe, secure and as though you've met your long-lost family - stay at the Residenza Santa Maria.
You won't be disappointed.

Residenza Santa Maria hotel in the Trastevere :  eating
The breakfasts at the Santa Maria are excellent for a Rome hotel : a great choice of breads, meats and cheeses.
The hotel doesn't serve lunches or evening meals - but you're in the Trastevere - they don't need to! They do have an arrangement with the larger Hotel Santa Maria in Rome nearby that guests at the Residenza can go to the Hotel for complimentary appetizers.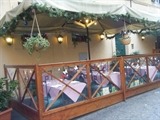 But this district is well known for its many restaurants and bars. The hotel staff will always give you a recommendation if you want one, but we found it's fun to wander around and pick a restaurant that takes our fancy on the night.
We haven't been disappointed yet.
Try the 'Mani in Pasta' in Via dei Genovesi, about ten minutes' walk away.  The food is great, the prices are very reasonable and - the best thing of all - it's always full of local people.

Staying in a hotel in the  Trastevere district - what's it like?
Staying in the Trastevere district is like living in a small Italian village.  It's got a really 'buzzy' feel, lots of excellent restaurants, incredibly friendly people and some great local shops.
See our page about the Trastevere district for more detailed information and for information about getting from the Trastevere into the main Rome sights.
One further word of advice.  Don't be put off by the fact that there's a lot of graffiti around this area. Graffiti has been a part of Rome's culture since ancient Roman daily life. This area is actually one of the safest and friendliest in Rome.

Rome Hotel reviews : a summary
Residenza Santa Maria - a great little hotel in the Trastevere district  :

Don't stay here if ...
You don't like walking and don't want to get public transport - a hotel in the Trastevere is too far out of the city to be what you're looking for.
You're wondering where to stay in Rome and want a hotel right in the centre  - try the Hotel Gea di Vulcano instead.
You're looking for a luxury hotel with spectacular views - try the Rome 5 star Hotel Hassler.
You want a luxury central hotel which is welcoming of children - the Hotel Russie is the one you need.

Do stay here if ...
You want a small, friendly hotel with a family feel and very individualised attention from staff.
You think would like staying in a small village-like Italian community.
You like a district where you can try real Italian food and drink in a buzzy atmosphere.
You want a haven of peace and quiet away from the chaos of the city centre.

How to book.
We use Hotels.com to give us the best rates on any hotels we choose to stay in. Their search facility gives information about the hotels, complete with reviews.
Because we've always been pleased with their service, we're offering you the same facility without the need to go anywhere else to search for your ideal hotel in Rome.
If you've read enough, and you'd like to book the Hotel Residenza Santa Marìa, just click here.
Alternatively, use the search box below to take a look at different hotels in Rome.
Enter your preferred dates and room requirements in this box and click 'Discover'.
You will be taken to a separate page provided by our partner hotel booking service, 'Hotels.com'.
We hope you find this a useful service.

Check out our other reviews of hotels in Rome.
---

Click to go back to the home page.
Some links on this page are affiliate links, which means that if you purchase a product through them, we receive a small commission. There is no extra cost to you. To learn more please see our affiliates disclosure document.