Places to visit in Italy:  discover real Italian culture in Rome's Trastevere.
We review one of the best places to visit in Italy, Rome's Trastevere district, and look at its Italian people and their culture, what to do and where to stay, and help you choose a great Trastevere restaurant.

Is the Trastevere really one of the best places to visit in Italy?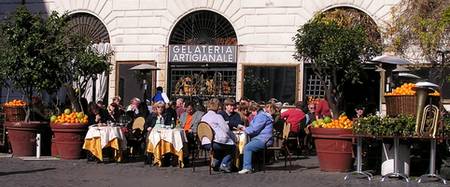 The colourful, vibrant Trastevere -
an ice cream café.
It depends.
If you like the thought of being in a district that's like a small, Italian village with twisty cobbled streets, little local shops, great and reasonably priced places to eat, friendly Italian people, culture oozing from every brick, a laid-back atmosphere in the daytime and a chaotic, 'buzzy' feel in the evenings - then yes - this is definitely the right place for you!

Italian culture in the Trastevere.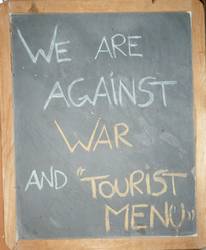 Always authentic -
a board outside a
Trastevere restaurant.
Like most districts of Rome, the Trastevere (pronounced Tras-teh-vair-eh) has its roots in ancient Roman culture.
Originally inhabited by the Etruscans, it was conquered by the  Romans and became the fifteenth district of the city of Rome, named 'Trans Tiberim' - 'across the river Tiber'.
The area has always been one of the most cosmopolitan in Rome.  In the heady days of the Republic it was settled by a mixture of local fishermen, Jewish traders and merchants from the East, and Roman dignitaries who built large and impressive villas there.
The lanes were small and unpaved until as late as 1400 when the 'sampietrini' or local cobbles were laid - and remain to this day.
So what exactly makes this district one of the best places to visit in Italy?  Let's start with the people.

Italian people and culture in the Trastevere.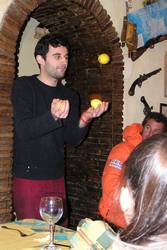 A juggling waiter -
only in the Trastevere!
Thanks to its partial isolation from the city of Rome, and its multicultural environment dating back to ancient Roman daily life, the people of the Trastevere - known as 'Trasteverini' - have always been considered unique.
It's like any small village anywhere in Italy - a melting pot of cultures and customs has formed a people who have their own identity, language and cuisine.
'Trastevirini' still have a deliciously laid-back 'live and let live' approach to life, a real pride in their district and their work, a zest for life and a genuine honesty in their approach to everyone - friends, neighbours and visitors alike.
So its people make the Trastevere one of the most welcoming places to visit in Italy - deeply Roman culture with an added twist!

Where to go in the Trastevere to find real Italian culture.
Simple. Anywhere! 
Visiting in the daytime?
Trastevere is one of the great places to visit in Italy on a sunny afternoon.  You'll find none of the chaos and frenetic pace of central Rome, just a sense of lazy days and local people going about their business.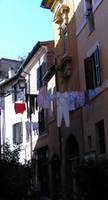 Start at the Piazza di Santa Maria in Trastevere. It's a tiny square surrounded by restaurants, bars and faded 'palazzi',  with the lovely church of Santa Maria at one edge and a pretty fountain at its centre - a popular meeting place for young people and street musicians.
Stand facing the church and walk up the narrow street to its right.  Take any of the right-hand turns and you'll be in the maze of lanes at the real heart of the district.
From there - just wander and enjoy!
You'll find old walls with plants tumbling down, washing hanging out to dry, statues in street shrines, terraces with outside restaurants, noisy bars, delicious ice-cream parlours - what more could you want?!
And at night, Trastevere is one of the buzziest and safest places to visit in Italy.
Once the sun sets, swap your coffee and ice cream for cocktails at one of the many Trastevere restaurant bars in the area and join the international crowd that blends in so well with local people.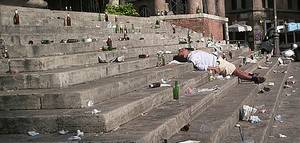 Piazza Trilussa,
the morning after the night before.


Piazza Trilussa is the place to be at night if you're young and like a lot of noise.
If you're not and you don't, mingle with local people and wander down any of the streets enjoying the street entertainment.
The only noise you'll hear will be the babble of voices eating in outdoor restaurants.
You'll feel safe, you'll feel included without feeling claustrophobic, you'll feel like you're in a small Italian village.

Best food places to visit in Italy - find your ideal Trastevere restaurant.
The Trastevere is a lovely place to wander on a warm spring or summer night in Rome and the eating places have a much more intimate feel than the crowded restaurants of Rome's 'Centro Storico'.
You'll find your own favourite. Choose from a tiny dimly-lit trattoria full of local people at Fabrizio's 'dal 1956' (Via di Santa Dorotea), or amazing shellfish at the family-run 'Osteria la Gensola' (in the Piazza in Piscinola), or choose from an amazing (if pricey) wine list at 'L'Antica Pesa' (18 Via Garibaldi).
Or have a look at what we think of as the strangest Trastevere restaurant - the 'Da Meo Patacca'.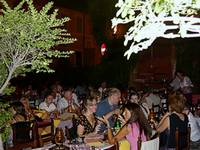 Piazza de'Mercanti -
the 'Da Meo Patacca'
in full swing.


It's owned by a former Los Angeles American football star, Remington Olmsted, and is a strange but compelling mix of American and Italian - a restaurant, night club, beer cellar and meeting place all rolled into one.
It's not one of the best places to visit in Italy for peace and quiet, nor for the best quality food around - but it's an experience!
It's located in an ancient stable at the lovely Piazza de'Mercanti - a delightful ancient square surrounded by beautiful buildings covered in trailing plants - and its tables more or less fill the square on a warm summer's evening. Your meal will be accompanied by guitars and mandolin players, and a lot of local wine!
It's a bit 'touristy' for us, but if you want company and clamour in a pleasant setting, this is the place to go!

Trastevere as one of the best religious places to visit in Italy.
The church of Santa Maria in Trastevere.
This isn't the largest or the most spectacular church in Italy or indeed in Rome, but it's got everything - history, art, culture - and a local legend.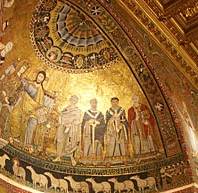 Beautiful mosaics in the
Basilica di Santa Maria
in Trastevere.
Situated in the Piazza di Santa Maria in Trastevere, the basilica of Santa Maria is one of the most ancient churches in Rome, initially noted in records as the 'Titulus Callixti', the present church is sited on the original  third Century foundations. 
Rebuilt in the twelfth century, most of the building dates from this era with a little renovation in the nineteenth century. 
Have a look for the dazzling thirteenth century mosaic panels, and take special note of the little building (just below the figure of Mary) on the scene depicting the Nativity. You'll notice it has a stream of oil flowing from it. 
Why? - because of the ...

... Legend of the oil.
According to local Italian culture and customs on the day Christ was born, a stream of pure golden oil flowed from the earth on the site where the church would be built.  It signified the coming of the grace of God - and you can still see a column inside the church (next to the altar) which marks the spot.
Outside the church, have a look for a lane off the Piazza called the 'Via delle Fonte dell'Olio' (the street of the fountain of oil) which was named in honour of the miracle.

Best market places to visit in Italy.
Roman markets - the Porta Portese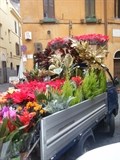 Whatever else you do, try not to miss this market! It's a huge street market which happens every Sunday morning halfway along the Via Trastevere and it buzzes!
If you love markets, you'll love this one - particularly good if you're a collector of any sort but especially of coins or stamps.
You'll get good deals here - but be prepared to haggle!

Where to stay in the Trastevere.
If you love the sound of the Trastevere district, or if you've  stayed there before and know you love it, you'll love our favourite hotel there.
Situated literally three minutes' walk from the Piazza di Santa Maria in Trastevere, the 'Residenza Santa Maria' is everything you'd want in a hotel - it's friendly, safe, clean, well-kept and in a lovely building with authentic features and - most importantly - great showers!
Use this link to see more details, and then try it - you won't be disappointed.

When's the best time to visit?
Have a look at our pages on Rome's climate to help you choose the ideal time of year for you - each season is different, and each has its own advantages.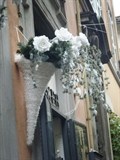 We think the Trastevere in the winter is without doubt one of the best places to visit in Italy, particularly in the weeks leading up to Christmas when the tasteful and imaginative shop and street decorations make the area really magical.
The 'Festa de Noantri', which takes place in Trastevere in July, is a mixture of religious and folk festival and a good time to choose too - although you'll need to know how to keep cool in the heat of a Roman summer!

The Trastevere might be one of the great places to visit in Italy, but what about getting around?
Getting around inside Trastevere itself isn't a problem as long as you're not in a car, a wheelchair  or wearing high heels. The narrow cobbled streets are lovely but not designed for those.
There's no metro station near to Trastevere, and the 'hop on, hop off' buses don't go there, so to get from Trastevere into the 'Centro Storico' you will need either to walk or to take public transport.  And that's a small price to pay for seeing one of the most authentically Roman places to visit in Italy.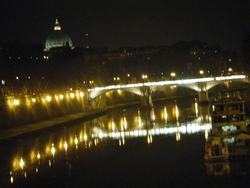 View of St Peter's walking into Rome across the 'Ponte Sisto' bridge -
spectacular at night.


Walking will take about twenty minutes to St Peter's Basilica and the Vatican City, and around thirty to the Forum and the Colosseum - a little less to the Trevi Fountain and the Spanish Steps. 
Crossing into Rome via the 'Ponte Sisto' pedestrian bridge is lovely and gives beautiful views up the river to St Peter's, or wander along the pathway at the side of the Tiber - and have a look at Rome's beach on the way.
Alternatively, public transport is cheap and regular.  Tram number 8 and night bus number 8 run from Trastevere to the Piazza Argentina; to the Vatican take bus number 23, and from Termini station you should catch bus number H. 
They all take just a few minutes, and travelling on public transport makes you feel you're really a part of life in Rome.

Top Tips to make your visit to one of the best places to visit in Italy a success :

To get around Trastevere comfortably, wear flat-soled, comfortable shoes. Don't try heels - Cath was caught like this more than once! The streets are uneven, cobbled and can be slippy if it rains.
Don't worry about the graffiti you'll see on the walls. Graffiti has been a part of Italian culture since ancient Roman daily life made it so.
If you're visiting Rome for the first time, this district may not be for you.  Although it's a wonderful place to stay it's not close to the usual attractions of the 'Centro Storico'.  Choose an hotel nearer to the centre - see these choices of accommodation in Rome, Italy, for our advice.

Places to visit in Italy to our page about things to do in Rome
---

Click to go back to the home page.